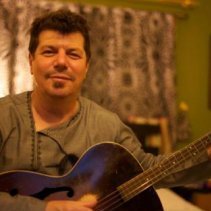 Santa Fe, New Mexico (PRWEB) December 06, 2012
Santa Fe dining institution and reliable entertainment hotspot Cowgirl has been serving the goods to visitors and locals when it comes to great food and music since 1993. During 2012 Cowgirl has brought entertainment in virtually every single night of the week, much to the delight of both locals and visitors. From 8:30 p.m. to 11:59 p.m. Saturday, Dec. 8, 2012 santa fe restaurant Cowgirl has lined up Jono Mason to entertain patrons with his special brand of rock tunes and melodies. Santa Fe, NM's premier on-line visitor guide SantaFe.com has this event listed on the company's event calendar.
Jono Manson is a prolific singer/songwriter and seasoned performer, with a long track record that includes major-label releases as both recording artist and producer and extensive touring in the USA and Europe. At this year's New Mexico Music Awards (held on May 22, 2011) Jono Manson won "Producer of the Year" for his work with singer/songwriter Jaime Michaels, whose album "the man with the time machine" went on to win "Best of the Year". "Tip My Hat", Jono's collaboration with Kito Peters, also garnered an award in the "Best Novelty/Humorous" category, and Doug Jeffords' "West of the Pecos", recorded and mixed by Jono Manson, won for "Best Country Album". "John Popper and The Duskray Troubadours" was released on 429/Savoy Records on March 1st 2011. The new solo project from the Blues Traveler frontman was produced by Manson (recorded and mixed at T he Kitchen Sink in Chupadero, NM during January/February 2010). Jono also co-wrote much of the material for the album. Jono toured as a member of The Duskray Troubadours throughout the continental United States, February - May 2011. Jono started 2011 with 16 acoustic shows in January, in Italy and Sardinia, including a run of eight co-bill appearances with his old pal Chris Barron (Spin Doctors). When not on the road, he's been busy producing records and writing songs. He's currently assembling material for an all-acoustic album of his own which, insanely busy schedule permitting, should be ready in the spring of 2012. "Life is Orange", an album of Jono's co-writes and duets with composer/songwriter/poet Donald Rubinstien, was released in December 2010. The collection of mostly acoustic recordings was born out of a series of improvisational writing and recording sessions at The Kitchen Sink. The result is a unique blend of their respective musical se nsibilities that is unlike anything in their vast individual catalogs. The music is sparse and melodic - at once warm and engaging, quixotic and haunting. Tao Seeger Band "Rise and Bloom" the latest project from the grandson of folk icon Pete Seeger was released in April 2010. The disc was co-produced by Jono Manson. Just after completing work on the album, Jono played with Tao at Madison Square Garden, and served as guitarist in the "house band" for Pete Seeger's 90th birthday celebration. The Barnetti Bros. Band "Chupadero" was released in January 2010 on Universal Records Italia. Produced by Jono Manson, this album features a "super group" comprised of Italian singer-songwriters Massimo Bubola, Andrea Parodi and Massimilliano Larocca, along with Manson himself. A bilingual concept album of songs about bandits and outlaws, the collection also includes performances by Terry Allen, Joel Guzman, Andrew Hardin, Chris Barron, Kevin T rainor, and Tom Russell. The project was recorded in the spring of 2009 at Jono's Kitchen Sink Studio. Jono is not currently signed to a record deal and is, for the moment, self-managed. At present he owns 100% of the publishing of his rather extensive catalog (administered by Bug Music), and he also controls the rights to all of his master recordings, with the sole exception of his 1995 A&M release "Almost Home".
About Cowgirl:
Since 1993 the Cowgirl, which now occupies almost the entire block where it started, includes a restaurant, a billiard parlor, a commercial catering kitchen and several private party rooms. The patio is one of the most inviting summertime venues for locals and tourists alike and the Cowgirl has become a local institution.
Contact Information:
Barry Secular
Cowgirl
319 S. Guadalupe St.
Santa Fe, NM 87501
(505) 982-2565
About SantaFe.com:
SantaFe.com provides locals and visitors to Santa Fe alike the most current interactive platform for events, music, arts, business, dining and lifestyle. SantaFe.com is a division of Hutton Broadcasting, located at 2502 C. Camino Entrada, Santa Fe, NM 87507
Contact Information:
Scott Hutton
SantaFe.com / Hutton Broadcasting
(505) 471-1067 (Media inquiries only, please)