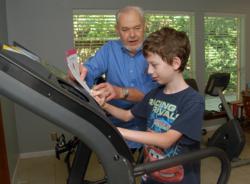 Brain repair is much faster when the parents continue to implement what has been learned during the regular session.
Conroe, Texas (PRWEB) December 11, 2012
Brain Potential Institute Launches Parent Partnership Program
Brain Potential Institute has launched its Parent Partnership Program that teaches parents to work with the company's highly skilled brain training staff in helping students overcome auditory processing disorders, ADD, ADHD and dyslexia.
The Parent Partnership Program was developed so students get support at home between professional brain training sessions. The company's brain training program is designed so students work one on one at home or in their office with a brain trainer via Skype, so the trainer can analyze, track and tailor the program to the student's needs as he progresses. This is the company's program which allows it to work with students worldwide.
Brain Potential Institute custom designs brain exercise programs to rapidly improve brain speed, memory, language processing, attention and visual perception. These are the hard drive brain competencies that are essential to succeed in school or the workforce.
For years, Brain Potential Institute students have worked solely with professionals that have extensive training and related educational and medical backgrounds. The trainers are highly successful in improving the brains of those with auditory processing issues, ADD, ADHD and dyslexia. In expanding its program to allow parents to get more involved in the training, much of what has been learned in any session may then continue on a daily basis in the home. This results in students achieving maximum brain repair faster than they would without home support. Another advantage of the Parent Partnership Program is parents may save up to 50 percent of the overall brain training program costs.
Entering the Parent Partnership Program requires passing tests Brain Potential Institute has developed to ensure the parent's brains are strong enough to accurately work with their student in initiating high speed skills. Many of the brain training programs require exercises that demand fast execution and repetition. This is the basis for laying new tracks and connections in the brain needed for faster thought transmission. For example, a student may be asked to rapidly name the number and suit on a deck of playing cards, but instead of calling the number that appears, the student must project what the card would be three positions up. For example, the three of hearts would be the six of hearts. This improves memory, brain speed and verbal fluency; however, this exercise must be performed at a fast speed set by a metronome.
"We are finding that the students whose parents participate tend to reach their fullest brain potential faster than others," said Davis. "This is because of the continuous support at home."
However, brain training, with or without parent involvement, has a long history of helping students raise their IQs by up to 30 points, increase memory and comprehension, and significantly improve processing speed. Often students jump at least three grade levels in reading and math.
Jane Davis, P.T., M.S.H.P founded Brain Potential Institute in 2002 as Kid Potential Inc. The company expanded its services to provide brain training to teens, adults and seniors, which required rebranding itself as Brain Potential Institute. Brain Potential Institute is dedicated to optimizing the human brain at any age through cognitive training to reach its highest potential and preserve brain function for optimum performance at school and work. Brain Potential Institute accepts students ages 3 through 90. Screenings are free. Please visit http://www.brainpotentialinstitute.com, or call 877.600.6565 for more information.