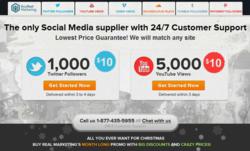 Ottawa, ON (PRWEB) December 10, 2012
Buy Real Marketing, the leading provider of web 2.0 business applications and number one supplier of Twitter followers and YouTube views, shows optimism and fortitude in overcoming obstacles concerning the ensuing photo-sharing integration issues on Twitter.
According to BBC News, Instagram has removed support for a feature on Twitter that ensures photos are properly displayed on the site and within Twitter messages. Now users, including Buy Real Marketing clients, can only view Instagram photos through a pre-card experience. This means that in order to see the photo shared on Twitter properly, users have to click through to Instagram website first.
Buy Real Marketing, with Twitter as its top social network that funnels them traffic and profit, is saddened by this turn of events since majority of their clients rely on this photo-sharing integration to get Twitter followers to stick around.
The company has always been customer-centered helping each client on their Twitter marketing strategies even after making their purchases. This is visible through online channels such as the Buy Real Marketing blog (http://www.buyrealmarketing.com/blog/) and their weekly newsletter, which facilitate their promise to continue giving value to clients and loyal readers.
Jamal Edwards, founder of hit music and lifestyle site SBTV, who has experienced the problems firsthand said, "It's not going to affect any of the companies. It's going to affect the people using it and it's wrong." This means Buy Real Marketing's Twitter marketing strategies will also have to adjust to the changes. This significant change in Twitter user-experience might appear to be a crucial challenge to Buy Real Marketing given that photo sharing is one big strategy the company has been using for several months.
Buy Real Marketing, however, is staffed by skilled marketing experts who know their way around social media and internet marketing as a whole, which will make this hurdle easy to overcome.
Buy Real Marketing offers a roster of social media marketing services that include Twitter followers, YouTube views, SoundCloud plays, Vimeo views, Pinterest followers and Tumblr followers. The services are offered with a 100% Money Back Guarantee and clients are met with friendly hard-at-work customer support representatives available 24/7.
To know more about the company's services, visit their website at http://www.buyrealmarketing.com or contact them at 1-877-435-5955 (US) 020­3289-0222 (UK).
About
Buy Real Marketing is owned by Clicking Labs. Clicking Labs is a well-established internet marketing company founded in 2010 by Jean-Patrick Bisson, Diana Quartin and Jonathan Kennedy. The company specializes in driving search marketing and social media traffic, social web app development and conversion optimization. Each product or service specifically helps small/medium website owners increase online visibility and improve online sales.
###