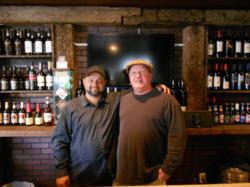 Join us and my partner Chris James for a holiday evening of music and good friends
San Diego, CA (PRWEB) December 06, 2012
San Diego's newest wine and cigar lounge, Habanos Cigar and Wine Cafe is hosting a rare San Diego appearance of Chris James and Patrick Rynn Chicago Blues. They will be performing at Habanos Grand Opening and Christmas Party on Friday, December 14th. Located on the corner of Rosecrans and Hancock Street, the party will start at 6pm and run till midnight.
Two large enclosed patios provide a festive ambiance for friends to enjoy great blues music, friendly conversation, food, premium wines and cigars. The center of the main patio sports a warm and inviting fire pit. Plenty of free parking is available. Complementary appetizers are provided. Friendly staff will be there to answers questions and serve customers.
"Getting Chris James and Patrick Rynn to perform for this event was no small task" commented Nathan Kalasho, proprietor, wine connoisseur and cigar aficionado, "If you are looking for an evening of some of the finest blues music in the world be here. I promise you an event you will not soon forget."
"It's great to be back in San Diego with all of our friends and family" commented Chris and Patrick "Traveling the world we don't have much opportunity to play in San Diego so this is a real treat for us to perform at Habanos Cigar and Wine Café's Grand Opening and Christmas Party. We look forward to our friends joining us for a fantastic evening."
Patrick went on to say, "I want to thank Nathan for providing such an awesome place to relax and enjoy a fine cigar and a great glass of wine."
ABOUT CHRIS JAMES AND PATRICK RYNN
Vocalist and guitarist Chris James and bassist Patrick Rynn are staunch Blues traditionalists with a high-energy contemporary edge. They've been playing together since 1990, proudly dedicating their musical collaboration to the invigorating sound of real, unadulterated Blues. They lead their own internationally acclaimed band, and have toured the world playing behind some of the greatest Blues legends in the field.
EVENT INFORMATION
NO cover charge
Friday, December 14
6pm to midnight
Habanos Cigar and Wine Café
3111 Hancock St corner of Rosecrans
Just South of Hwy 8
619-787-7477
ABOUT HABANOS CIGAR AND WINE CAFÉ
Apx 3,000 sq. ft.
600 sq. ft. walk in humidor
The two large enclosed patios provide leather sofas, tables and chairs.
The main patio sports a warm and inviting fire pit.
5 large screen TVs
Full Tapas kitchen
Huge premium wine selection
Espresso and specialty coffee drinks
Free parking
Hours of Operation
Sunday to Thursday 9am to 10pm
Friday & Saturday 9am to midnight