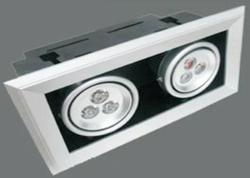 (PRWEB) December 16, 2012
Zhongtian Lighting is glad to launch this new product to meet the needs of customers and help save energy. The LED bulb [ZT-G65E27-511A ] is an ideal alternative of traditional bulbs for home lighting and other commercial lighting.
LED bulb lights do not contain a filament like incandescent bulbs do, which means they are more solid and can withstand regular bumping and handling. When weighing the energy savings, life-span, and durability of LED lights to traditional lights, the continued cost-saving benefits outweigh the initial cost difference. For a given light output, LED bulb light consumes energy six to eight times less than that of a conventional lamp filament.
The following is its technical specification:
Model: ZT-G65E27-511A
Shade dimension: D109*H65.5mm
Rated power: 5W
LED quantity: 5pcs
Housing material: PC
Net weight: 156g
Base: E27/E26
Input voltage: 85-264VAC/DC,50-60Hz
Efficiency: 0.90
Luminous flux: 300lm(warm white), 400lm(neutral white and cool white)
Viewing angle: 120 degrees
Color rendering index: 75±5Ra
Color: Warm white/White/Cool white
Working temperature: -20℃ - 45 ℃
Luminous efficiency: >70lm/w
This model has an attractive design, and it can match the environment of different styles. Lower energy consumption leads to greater benefits than just cost-efficiency. LED bulbs do not produce heat. Their energy consumption is light-emitting, not heat-emitting. This means LED lights remain cool to touch, making them a safer, more child-friendly and fire-resistant option to light up users' houses. LED bulbs provide brighter light with lower bulb temperatures, providing both a glorious site and a safer environment. Therefore, the LED bulb [ZT-G65E27-511A] is appropriate for other applications such as hotels, restaurants, and retail shops and so on.
Zhongtian Lighting is engaged to providing energy-efficient and affordable solution that cater to today's lighting needs. The led bulb complies with RoHS standards and UL standards, making LED light both safe and eco-friendly decorating option at any time. For more information, please visit http://www.chuangled.com/LED-Bulb-Light.html.