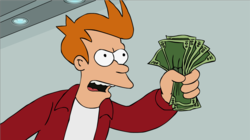 Worcester, MA (PRWEB) December 20, 2012
Take My Money, Please ! is a free online website run by a bunch of geeks who partake in way too much online window shopping. For this reason, the staff has compiled an ever growing list of cool, useful, funny, and unique products.
TakeMyMoneyPlease.com's philosophy is simple: find the coolest stuff that can be bought on the web. Many items listed on this site do return a small commission for product referral, however this is not the sole motivation for featuring an item.
TakeMyMoneyPlease.com is an affiliate based e-store that features super cool products that are available for sale on other websites like Amazon, ThinkGeek, Firebox and others. Because of this, when people click BUY NOW, they will be magically whisked off to the site which is actually selling and shipping the product. There's nothing fishy going on. However, TakeMyMoneyPlease.com does not take any responsibility for products once they have been purchased. So if any new toy does not arrive, or shows up broken or with mysterious white powder in the envelope, don't come to TakeMyMoneyPlease.com, go to the company that you sent the payment to.
TakeMyMoney,Please's goal:
TakeMyMoney,Please mission is to present everyone with something they can read about, talk about, and eventually spread the word about. To make it that much easier to find something cool, fast. TakeMyMoney,Please update on a daily basis, with random Cool things.