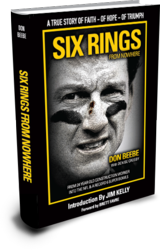 Don Beebe Proves You're Never Too Small If You Have A Big Heart - DONALD TRUMP
Ashwaubenon, WI (PRWEB) December 07, 2012
On December 8th, 2012 Big Talk Publishing, will release Don Beebe's Six Rings From Nowhere, co-written with author Denise Crosby. Big Talk Publishing President Jim Gibson stated, "Don Beebe's Six Rings From Nowhere Biography is a combination of blockbuster movies Rudy, Hoosiers and The Rookie, only more amazing. It is a story of faith, hope and triumph that will make you begin the race toward your own end zones that will define you as a winner."
Like Rudy, Beebe was overlooked by major colleges because he was too small, instead choosing a blue collar career, becoming a construction worker out of high school pounding nails for 4 years completely out of football. Like the movie Hoosiers, Beebe played his high school ball at a very small Midwest school surrounded by farmland, where sports dreams seldom came true. And like the movie The Rookie, Beebe was out of sports for a number of years before trying a comeback that turned out to be one of the most amazing journeys into the NFL.
As a complete unknown, Beebe was a last minute invite to the NFL Combine, breaking speed records that stood for 17 years. That speed made him a first pick by the Buffalo Bills, and went on play on a record six Super Bowl teams, including the world champion Super Bowl XXXI Green Bay Packers. Packer Captain Brett Favre gave Don the Super Bowl XXXI game ball out of respect to Don's unmatched dedication to the game.
Beebe's official book release sigining will be at House Of Speed Synergy Fields, 807 Parkview Road, Ashwaubenon, Wisconsin Saturday December 8th 12:00 pm - 3:00 pm signing books at Six Rings From Nowhere's official launch. He will be joined by Green Bay Packers defensive end Mike Neal, offensive tackle Bryan Bulaga, former Packers wide receiver Bill Schroeder and Olympian Lauren Sesselmann. In addition to the book signing, Beebe will have his Six Super Bowl rings, Super Bowl XXXI game ball and Super Bowl XXVII Leon Lett game ball for the fans to enjoy.
Media Inquiries contact Big Talk Media @ 630-270-3006 or jgibson(at)bigtalkmedia(dot)com