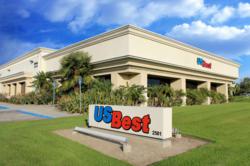 If you take care of your employees, they will take care of you
IRVINE, CA (PRWEB) December 07, 2012
U.S. Best Repair Service, Inc. "US Best Repairs" is celebrating another year of growth and success in the property preservation and REO repairs default servicing industry by hosting their annual Christmas party at Knott's Berry Farm. The company has reserved an area of the park from 11:00 a.m. to 3:00 p.m. where over 400 guests will be in attendance. Employees, their spouses, significant others and children will enjoy activities including caricature drawings, face painters and of course, photos on Santa's lap. A gourmet catered lunch will round out the afternoon's festivities, and of course, the annual raffle hosted by US Best Repairs. The company will give their employees a chance to go home with some goodies, dozens of gift cards for merchandise and local restaurants and a variety of electronic items. Last year's grand prize was a 55" big screen TV. Knot's Berry Farm is open from 10:00 a.m. to 10:00 pm, and all US Best Repairs employees and their guests will have full access to the Theme Park itself throughout the day.
No one understands better than US Best Repair Service that, "if you take care of your employees, they will take care of you", said US Best Repairs CEO Mark Zaverl. "Family values are important to us as a company, and also as individuals, and have always helped to guide how we do business." US Best Repairs has maintained a tradition of being a family friendly company, from its early days as a home repair company through its evolution into a national field services contractor.
About U.S. Best Repair Service
U.S. Best Repair Service, Inc. is a privately owned and operated construction company specializing in protecting, repairing and maintaining properties for the default mortgage servicing industry. Based in Irvine, California, "US Best Repairs" services REO and Pre-REO properties nationwide. Our mission is to provide extraordinary service at every opportunity, by exceeding expectations of timeliness and quality, with the best pricing in the industry.