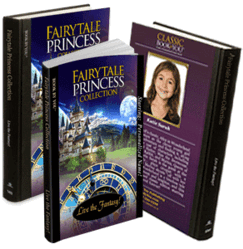 Ten timeless favorites are included in the "Fairytale Princess Collection"
London, ON (PRWEB) December 07, 2012
Book By You is delighted to announce the release of their anthology of classic tales, the "Fairytale Princess Collection." Perfect for little princesses—and grown up ones, too—this collection includes ten classic fairytales, each with a personalize-able prince and princess, and best of all: a certain Happily Ever After waiting at the end of each tale.
Ten timeless favorites are all included in the "Fairytale Princess Collection," all from her isolated tower, "Rapunzel" lets down her long hair to her true love and thwarts the enchantress that keeps her captive there. With the help of her fairy godmother, "Cinderella" attends a ball and falls in love with a handsome prince—but all is nearly lost at the stroke of midnight. In personalized "Beauty and the Beast," Beauty must learn to love the terrible, ugly Beast by looking beyond his appearance to his heart. To escape the wrath of her jealous step mother, "Snow White" flees into the forest, where she befriends the beloved Seven Dwarfs—but can she escape the evil queen's clutches? Cursed by an evil fairy at birth, "Sleeping Beauty" pricks her finger on the spindle of a spinning wheel and falls into an enchanted sleep for one hundred years, waiting for her handsome prince to arrive. Teeny tiny "Thumbelina" embarks on a teeny tiny adventure when she is stolen from her mother's windowsill by an ugly toad. A lovely girl must prove she's a real princess in "The Princess and the Pea," and two beautiful young sisters must help break a bear's curse in "Snow White and Rose Red." In "The Twelve Dancing Princesses," a king enlists the help of a young man to discover why his daughters shoes are worn through to the soles each morning, and a young woman travels to the ends of the earth and beyond for her handsome prince in "East of the Sun and West of the Moon."
At BookByYou.com adults and children can co-author the "Fairytale Princess Collection" by selecting the names, physical features and places to personalize. Princesses can choose loved ones, friends, or even a favorite celebrity to star as their handsome prince. The character questionnaire, available on the Book By You® web site, is fun and easy to complete, with characters and features such as hair color, eye color, friends' characteristics and more. The collection's many personalized features make this book a great holiday gift. This professionally bound book is available in paperback or hardcover.
To purchase a personalized novel, readers go to the company's website at BookByYou.com and complete a character questionnaire specifying the information to be included in their book. The company offers a free demonstration area where readers can preview personalized excerpts from any of the company's teen, romance, mystery or children's personalized books.
BookByYou.com has received national media coverage and been featured on ABC's The View, CNN, Fox News, The Wall Street Journal, Jimmy Kimmel Live and many additional media outlets.
BookByYou.com is an interactive publishing company and is the world's largest provider of personalized books. Media interviews, promotions and give-aways are available upon request. Please contact Michael Pocock at 1-877-898-1440 or publish(at)BookByYou(dot)com