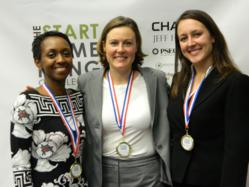 "In the aftermath of Hurricane Sandy, it is more critical than ever that we support these businesses which are rebuilding the local economy," said Alfa Demmellash.
Jersey City, New Jersey (PRWEB) December 13, 2012
On Friday, December 14, the nonprofit Rising Tide Capital will host the Start Something Champions Gala at Maritime Parc in Jersey City. The first of its kind, this event will help fund scholarships so that hundreds of entrepreneurs will be able to participate in Rising Tide Capital's 12-week Community Business Academy (CBA) and year-around programming which has been recognized by the White House and CNN Heroes.
"Imagine if they [Rising Tide Capital] could help 500, or 1,000 or more… all across America. If we empower organizations like these, think about the young people… whose lives we can change, the number of families whose livelihoods we can boost," said Obama in a 2009 White House speech.
To date, 563 entrepreneurs from across the state have graduated from the program with support from scholarships. 90% of them are minorities, while 77% are considered low-income individuals. Together, they have gone on to create nearly 250 businesses for their communities. According to Rising Tide Capital's CEO, Alfa Demmellash, these small businesses are particularly important in New Jersey which was recently devastated by Hurricane Sandy.
"In the aftermath of Hurricane Sandy, it is more critical than ever that we support these businesses which are rebuilding the local economy," said Demmellash.
The event draws its name from the Start Something Challenge, the only statewide microbusiness pitch competition of its size. This year, nearly 80 entrepreneurs participated, submitting video pitches which generated nearly 2 million online views. At the gala, and awarded cash prizes, including a $10,000 top prize for Moira Brett, CEO of Buttercup Cosmetics, LLC. RTC will also recognize Start Something Challenge honorees- Chase and Priceline.com founding member Jeff Hoffman.
A 7-minute ferry ride from downtown Manhattan, Maritime Parc offers expansive views of the Hudson River and lower Manhattan. Hors d'oeuvres and a sit-down dinner will be prepared and served under the direction of executive chef-owner Chris Siverson.
For ticket pricing and information, click here.
The Start Something Challenge
The Start Something Challenge is a statewide initiative spearheaded by Rising Tide Capital and its partners to encourage entrepreneurs, particularly from low-income communities- to activate new business ideas. Participants not only get the chance to win $25,000 in prizes, but also online visibility and valuable feedback from local leaders during a series of live-pitch events. The Challenge is supported by lead sponsors: Jeff Hoffman, a founding member and former CEO of Priceline.com and Chase. PSEG, Citi, Provident Bank, the Tory Burch Foundation, St. Peter's University, The Star-Ledger, and Pitch Burner are also among the supporting sponsors. For more information, visit: http://www.theStartSomethingChallenge.org.
About Rising Tide Capital
Headquartered in Jersey City, Rising Tide Capital, Inc. is a 501(c)(3) non-profit organization founded with the mission to empower entrepreneurs to create and grow small businesses which transform lives and communities. The organization's vision is to build a replicable model for high-quality entrepreneurial development services that can be adopted locally in other low-income communities to catalyze social and economic empowerment. Learn more at http://www.RisingTideCapital.org.