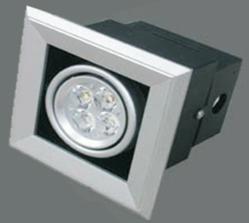 (PRWEB) December 20, 2012
Zhongtian Lighting, an excellent LED light manufacturer in China, announced the new product [ZT-BG-4W] down light to customers all over the world. The new model uses 90 per cent less energy than a halogen light, which significantly reduces power consumption and helps to achieve global energy conservation goals. The technical specification is as follows:
Model: ZT-BG-4W
Shade dimension: 135*135mm
Rated power: 4W
Lamp beads: 4pcs
Housing material: 6063 aviation aluminum
Input voltage: 85-264VAC/DC,50-60Hz
Efficiency: 0.90
Luminous flux: 555lm±5lm
Color rendering index: 75±5Ra
Color: Warm white/White/Cool white
Color temperature: (3000K-3500K),(4000K-4500K), (5500K-6500K)
Working temperature: -20℃ - 45 ℃
Luminous efficiency: >70lm/w
This light source satisfies a very wide variety of general lighting applications thanks to its optimum 120° beam angle. With its bundled dimmable driver, the [ZT-BG-4W] down light is able to accept a wide range of input voltages, making it an effective solution for almost all worldwide locations. This down light is compact and lightweight for easy and economical installation and maintenance.
The [ZT-BG-4W] led down light is an ideal choice of a down light for almost all indoor applications, including commercial lighting, office, hotel, restaurant, shopping mall, and households. This down light's color rendering index (CRI) of up to 80, makes it an especially suitable choice for residential, retail and food outlet lighting. And depending on the scenario, the lighting can be adjusted to fit any situation.
Zhongtian Lighting develops highly compatible lenses with an 85% light transmission efficiency, which caters to different kinds of light sources and deliver a more uniform light pattern. A high quality light weight heat sink has been developed for the rear of the down light that ensures any heat produced by the LED's is dissipated effectively without compromising on performance. With multiple emitting angle choice, it can be used in the bedrooms, sitting rooms, shopping malls, supermarkets, offices, advertising boards, bars, hotels, resorts, lobbies, buildings, stage decoration, etc. Besides, all LED lamps of Zhongtian Lighting come with 3 years warranty.
The company makes improvements to the thermal design so that it becomes possible to efficiently release heat from each component of the power supply circuit inside the heat sink. In view of LED's advantages of energy conversation and environment protection, LED down light plays an important role in the future development trend. Zhongtian Lighting wants to bring more benefit to customers and build a green environment by manufacturing more LED lights of good quality, which accelerate its self-development in turn.
For more information, please visit http://www.ztlights.com/LED-Ceiling-Light.html.