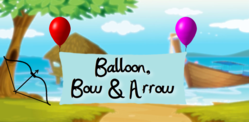 Balloon Bow & Arrow is enjoying around 20,000 downloads a day
Nashik, Maharashtra (PRWEB) December 19, 2012
On November 20, 2012 Indian game developer Manas Gajare's android game Balloon Bow & Arrow pierced through the hugely popular Angry Birds game and occupied #1 position in the Top Free Games category on Google Play. Launched on October 11, 2012, Balloon Bow & Arrow managed this impressive feat in less than 4 weeks. The app went viral with over 350,000 downloads in just 3 weeks after its launch.
Balloon Bow & Arrow is a simple game that offers high entertainment value. Starting off with 25 arrows, the player pulls back the arrow to pierce balloons (of different colors and sizes) flying into the sky. Each perfect 'pop' earns a point (depending on the size of the balloon). After making three 'pops' in a row, the gamer earns two bonus arrows. This feature essentially ensures a continuous supply of arrows for a fairly accurate marksman, making the game interesting and addictive.
Perhaps what has contributed to the enormous popularity of this game is the minute attention to details that ensures realistic sound effects, excellent animation and accurate physics effects. The sound of air escaping as the arrow flies off the bow is clearly audible as is pop when the arrow finds its mark on the balloon.
Developer Manas Gajare, CEO and founder of Dexter Technologies is naturally ecstatic about the turn of events. "We were fairly sure that the app would do well", he says. "But even we are amazed by the huge popularity that Balloon Bow & Arrow has achieved," Manas says. Manas Gajare is a Computer Science engineering graduate from one of Mumbai's premiere engineering institutes. This keen apps developer has a post graduate degree in Mathematics and is an internationally rated Rubik Cube solver.
Despite these high level qualifications, the game Manas has developed is simplicity personified. "I wanted a simple game that people could enjoy playing when they have 5 minutes to spare, say, while waiting at the checkout counter at the super market. Something where there is no 'heavy thinking' involved", Manas says. Clearly Manas has touched a chord with people want, as shown by the viral popularity of this game.
Currently, the background has a grassy riverbank theme with an additional night time theme option. "But more exciting themes are in the offing and other innovative concepts will be incorporated into the game soon", promises Manas. Balloon Bow & Arrow is available for free download on Google Play and is compatible with all android devices 1.6 and above.
For more information on Balloon Bow & Arrow or to schedule an interview with Manas Gajare, please call +91 9028201604 or email Manas Gajare at manas.princeton(at)gmail(dot)com
Manas Gajare
Apps Developer
Phone: +91 9028201604.
Email: manas.princeton(at)gmail(dot)com
Website: https://play.google.com/store/apps/details?id=com.dexterltd.games.balloon_bow_arrow