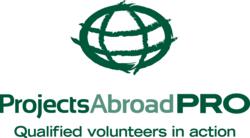 This type of therapy can be done with kids as young as two years old, and has been used to help people manage affects of other disasters like Katrina and 9/11.
Brighton, UK (PRWEB UK) 7 December 2012
In a recent Skype meeting between current Projects Abroad PRO volunteers, the work of former Projects Abroad PRO social worker Avril McIvor and former clinical psychologist Sandy Jay was reviewed, and a strategy devised to continue their successful work overcoming difficulties with social infrastructure in Ghana.
It was agreed that moving forward, the areas to focus on were Child development – identifying what is normal for children in different developmental stages, and that using play therapy was "crucial".
Hanneke Van Roemburg, a current Projects Abroad PRO volunteer explained, "Upon research of play therapy and having observed staff behaviour and current levels of understanding and current implementation of play it is felt that 'play therapy' is a complex therapy that would require developed skills and training therefore we suggest that we begin with Child's play assessment. This will allow us to train to the staff on the basic benefits of Play for the child and demonstrate basic assessment and monitoring. It is felt that the staff will benefit greatly from, and are more likely to understand and most importantly continue with suggested ways of working, by building a basic awareness firstly and practice assessing different forms and play and how the worker can more naturally understand the child's world by observing him or her at play".
Play therapy has proven successful in first world countries too. The recent Hurricane Sandy disaster in New York saw the routines of many young children disrupted. Family and Relationship therapist Dr Bonnie Eaker Weil suggests that parents of those affected help their kids participate in Family Play Therapy. "This type of therapy can be done with kids as young as two years old, and has been used to help people manage affects of other disasters like Katrina and 9/11".
"We also feel that staff and the child would benefit from a more child centered approach to the initial 'interviews' that is carried out when a child first arrives at the shelter or centers. Currently the process is carried out entirely through verbal discussion however by using techniques, such as life maps, the worker will be able to relate to the child and is more likely to get an understanding of how the child feels about past and present events in their lives," added Roemburg.
Projects abroad PRO doesn't want to stop making progress, why not find out more about volunteering jobs and social work opportunities in Ghana and across the globe?
About http://www.projects-abroad-pro.org:
Projects Abroad PRO is an arm of Projects Abroad designed to encourage graduates, professionals on a career break and retirees to take part in voluntary work abroad. We are looking for people who want to use their skill or qualification to make a difference in some of the poorest communities in the world. From countries in Africa to South America, our strength lies in matching each volunteer with an in-country professional from their related industry.