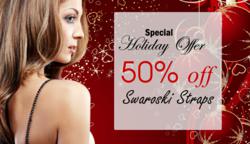 Online lingerie store Peches offers exciting new products and offers for the holiday season!
Mumbai, India (PRWEB) December 28, 2012
Peches, the favorite lingerie online store of most Indian women, has come up with some exciting new lingerie lines to heat up the holiday season. These exciting new additions are being touted as the fashion accessories of the season and have already received favorable comments from various reviewers. To top this, various discounted offers like the popular London collection's Push Up Bra on sale, makes these must-have accessories affordable enough for customers to buy or gift and spread cheer during the upcoming festive season.
One of the most popular products – the Swaroski Straps can now be purchased at 50% of its original price. Similarly users can now buy various exciting Snow collection products at 20% discounted prices. To top that there is a double delight offer, which allows users to get one product free if they purchase any of the products from London, Paris or Milano collections. For further information, please visit: http://www.lapeches.com
Peches is one of the few European brands that have their production house in EU unlike other brands that source it from countries like China. It has been on the forefront of introducing latest lingerie lines in India, providing products at some of the lowest prices and yet maintaining the quality expected of a European brand. The designs are all en vogue internationally, and are comfortable yet exciting. Increased sales and products going out of stock are indicative of the store's popularity. Indian tastes have usually been conservative. India has progressed in many spheres of technology, consumables, health etc. Even in terms of fashion it is now on par with the world's trends and almost all international labels are entering the Indian space to tap this ever-growing market.
Yet, the choice of the nation when it comes to lingerie, continues to linger on the traditional mold. Customers are still hesitant to choose risqué lingerie like thongs for women from physical stores. Worried about being judged or being unfairly bracketed as someone with loose morals are often the biggest barriers while choosing such products. At least in metro cities like Mumbai, Delhi the trend is changing, but for customers in other or non-metro cities, it is almost impossible to physically purchase high-fashion lingerie.
Thus, a Peches like online lingerie shop, allows the buyer to choose their favorites without hesitation. All the latest international trends at customized choices allow customers to exercise their right to choose what they wear. To top that, discounts on the latest trends make these products highly affordable in times of high inflation during the festive season. The current festive season has the following ongoing offers:

Swaroski Straps at 50% of their original price
20% off on the Snow Collection if purchased as Sets
Order any product from London, Paris or Milano collections and get another product from same collection for free.
Scratch cards offer for new users, which gives a flat 10% off on their purchases.
So customers can enjoy these offers to buy or gift exciting yet cheap lingerie to spice up this festive season. For further information please visit: http://www.lapeches.com/