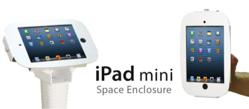 The "Space mini" line of products for iPad mini presents with the widest range of iPad mini security solutions and capabilities to pick from in order to meet with our customers business needs
(PRWEB) December 07, 2012
With 100 million iPads sold so far it seems that Apple's recent announcement of its iPad mini has created a huge demand for rolling out the new star for businesses and enterprises.The Maclocks iPad mini lockable enclosure is designed to keep up with Maclocks customers requirements for Apple's new iPad mini deployment within education, government, health care, retail and public spaces.
The "Space mini" for iPad mini line of products by Maclocks present a variety of lockable mounting solutions with iPad mini lock, a cutting edge mechanism that fits all iPads and enables placing the iPad on any surface with no bumps in its back or to place on its back cover or any iPad case, iPad mini enclosure Kiosk to be placed on a desk/wall, iPad mini enclosure with iPad mini floor stand for iPad podium or iPad POS solution and iPad mini dynamic flex arm to fit on any solid surface for a modular use.
"Whether for display your content or use as an iPad kiosk, Maclocks will keep your iPad mini secured in all environments and with multiple colors and models to choose from," said Alex Gad, Maclocks GM. " The "Space mini" line of products for iPad mini presents with the widest range of iPad mini security solutions and capabilities to pick from in order to meet with our customers business needs. Our new variety of security and display solutions for Apple's portable iPad mini present an additional strength of security yet allows our customers to make it with a sleek and clean design & extremely comfortable features."
Maclocks was also the first manufacturer to present the world's first iPad lock when soon after the first iPad was introduced by Apple, a mechanism that later on had been used by other third- party security accessory makers, placing Maclocks as the leading maker in the mobile hardware security segment.
"Space mini", Maclocks new line of locking & display products for iPad mini is now available for order on http://www.maclocks.com and also on Maclocks's dedicated website for iPad mini http://www.ipadminilock.com.
About Maclock
Maclocks is a world leading brand and a premier designer and manufacturer of locking and display solutions for Apple's elegant iPad, MacBook air, MacBook Pro, Mac mini and iMac devices. Maclocks products security and display solutions are the best of choice for over 30% of the fortune 1000 companies across US and Europe.
Maclocks has been working with its customers and partners to solve their security requirements using innovation, the highest quality materials, integrity and commitment to the highest level of customer service. Maclocks owns a large number of patents in the field of hardware security and spends great resources on R&D and in quality control of its dedicated line of products.
Maclocks' Apple dedicated line of products are sold to corporate accounts, retail and commercial companies, educational institutes, state and national government agencies, resellers and distributors world wide.