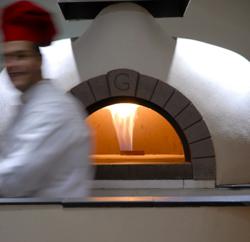 Our ovens are known for their modern materials and excellent technical performance
(PRWEB) December 11, 2012
The Stone Bake Oven Company, who manufacture and distribute wood and gas pizza ovens throughout the UK and Europe, have recently re-designed their Commercial Gio Oven range.
The already very popular commercial Wood Fired Oven range can be found in pizzeria's, restaurants, hotels and pubs across England and Ireland, and more recently Europe.
Known for excellence in pizza cooking, the Gio Oven is available in gas and wood combinations depending on an establishment's requirements. But its not all about pizza, the Gio Oven range which can fit over 10 pizza's at a time in its largest model, can cook a whole host of gourmet delights from roasts, to breads, specialty dishes and more.
The original Gio design featured a grand oven mouth, but design changes by the Stone Bake Team have incorporated a more traditional half moon arch. "Our ovens are known for their modern materials and excellent technical performance" says Tom Gozney the company founder, "a working contradiction, our ovens use the traditional theory of wood fired cooking, but are enhanced by efficient modern material technology, we feel our new oven design reflects this balance between old and new" says Tom.
One thing that appears not be a contradiction is the Stone Bake Oven Companies growing fan base, with wood fired ovens selling throughout the UK and Ireland, orders from Europe are starting to flood in. "Our ovens represent themselves in quality and efficiency" says Tom.
The new Gio Oven design also enables faster and easier oven assembly, as the oven comes in manageable parts, saving time, money and enables access to tight spots in kitchens and restaurants. With competition amongst restaurants, hotels and pubs as rife as ever, it appears gas and Wood Fired Pizza Ovens are fast becoming the old, new way to cook.
To find a range of wood and gas ovens, for commercial use and use at home, including outdoor pizza ovens, simply visit http://www.thestonebakeovencompany.co.uk.