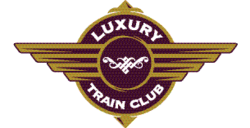 Imagine receiving a gift voucher that is the key to the world of luxury train travel; a moment to cherish, only matched by the experience of the journey.
Chippenham, UK (PRWEB) December 10, 2012
The Luxury Train Club has launched a gift voucher scheme, unique in the world of luxury rail travel, solving present problems for the festive season, and is offering a travel pack from Noble Isles as a thank-you for bookings on Al Andalus in Spain.
The Luxury Train Club presents rail journeys by over 25 trains in 35 countries worldwide, with a calendar that makes it easy to match important dates to luxury rail journeys.
The Club's Ticket To Ride vouchers, valid for any of LTC rail holidays, are perfect luxury train gifts for Christmas, Valentine's Day, Mother's Day, Father's Day and indeed many special occasions.
Luxury train travel is increasingly seen as a way to combine the sybaritic pleasures of retro, slow travel whilst been attended to in sumptuous surroundings with an underlying commitment to a greener way of life.
The Luxury Train Club is finding that most bookings are made by women and the number of single people travelling is also increasing. In addition, although men tend to be more interested in the trains themselves, they appreciate that the style and comfort of a luxury carriage or a suite with private bathroom will appeal to their partners.
Tickets To Ride are available for purchase by Club members throughout the year, and make a very special gift for an important person or couple. A Ticket To Ride can be worth any amount from USD $750 or GBP £500 or EUR €600, in any one of those currencies.
Each Ticket To Ride is valid for one year from date of issue and can be redeemed towards the partial or complete payment for any journey featured on the Luxury Train Club website, as long as there is availability on that particular trip, even if the chosen journey takes place later than one year after issue.
Vouchers from the Luxury Train Club are an ideal way to show you care while giving choice to the lucky recipient.
Fay Lejeune of the Luxury Train Club says, "Imagine receiving a gift voucher that is the key to the world of luxury train travel; a moment to cherish, only matched by the experience of the journey."
Noble Isle has drawn on the natural and cultural riches of the British Isles to create the Noble Isle collection.
The Luxury Train Club is offering members the complimentary gift of the Noble Isle Travel Trio when they book on the Spanish luxury train, Al Andalus, any time before 31st March 2013.
The Noble Isle Travel Trio contains Perry Pear Shampoo (75ml), Perry Pear Conditioner (75ml) and Summer Rising Bath & Shower Gel (75ml), worth £19.50.
Al Andalus has two routes. The 'Al Andalus' itinerary travels through Andalusia in southern Spain, with visits to the iconic cities of Seville, Cordoba, Granada, Ronda and Cadiz, whilst being transported through the mountains of the Sierra Nevada to the Atlantic Ocean. The 'Ibérico' itinerary is Madrid to Zaragoza, or Zaragoza to Madrid, with a full programme of visits to perhaps less well known cities, sites and towns.
"Opting to travel by luxury train is not for merely getting from A to B but as a conscious lifestyle choice, to which Noble Isle, in both ethos and product, adds real value," says Fay Lejeune of the Luxury Train Club.
About the Luxury Train Club
The Luxury Train Club is the personal booking service for the world's greatest train journeys, offering a concierge approach to booking train holidays, vacations and day trips. The site also offers private rail charters and rentals for VIP and corporate bookings as well as comprehensive information about each of the trains on offer.
The website is part of a group of rail booking sites which includes Train Hire, Private Rail Cars, Train Chartering and Open Access Rail.
For more information, please visit http://www.luxurytrainclub.com
For press enquiries please contact Simon Pielow on +44 (0)1249 890205 or email infoATluxurytrainclub.com
About Noble Isle
Noble Isle has drawn on the natural and cultural riches of the British Isels to create the Noble Isle Collection: the new tradition in luxury bathing. Taking inspiration from all corners of the Isles, from misty moorland and old English orchards to Highland distilleries and windswept coastal cliffs, Noble Isle's high-performing bath and body products employ the finest fragrance and natural extracts, and the best of British design, to create a lasting sensory impression. http://www.nobleisle.com
For press enquiries please contact Alice Dogruyol on +44 (0) 7939 031 030 or email aliceATalicedogruyol.com