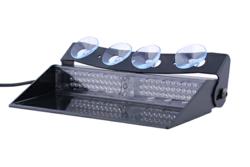 Brooklyn, NY (PRWEB) December 08, 2012
Police Lightz unveiled the 2nd generation of its higher acclaimed PD72 deck and dash interior LED police light with improved technology and increased brightness for better visibility.
Keeping with the interior undercover design of the previous generation, the newest generation of the PD72 keeps the clear lenses and classic look of the 5mm LEDs but has undergone some numerous hardware improvements to make this warning light even more reliable.
"Making our products more reliable and providing the user with a warning light that they feel protects them is important with every light we design. We took the first generation of the PD72 and gave it a boost of brightness and a hardware upgrade to come up with the 2nd generation of this popular dash light. It is available to professional in many industries with colors ranging from amber to blue and white." said Ariel Cohen, Director of Marketing for Police Lightz.
Used across a wide range of industries in various conditions, the improvements to the new PD72 may not be noticeable on the outside but the user will notice a difference when it comes to the lifespan and reliability of this interior lighting solution. With improved wiring and circuitry, the second generation provides for longer use of each unit, meaning less time having a vehicle out of service. The 5mm LEDs still have their classic look, but with improved brightness for more protection in any situation.
Features have also been upgraded for the 2nd Generation of the PD72 to include an increase in self contained flash patterns from 12 to more than 25 and a new two switch cigarette plug with a power switch and pattern changing switch to make it easier for the user. In addition, the new PD72 allows the user to sync multiple 2nd Generation PD72 dash lights together with or without the cigarette plug. In total, the PD72 provides its brightness from its 72 LEDs and standard 12 volt power cord.
The Police Lightz 2nd Generation PD72 Deck & Dash Lights are available for 139.99. All Police Lightz products including the PD72 can be purchased online through EmergencyCity.com.
Whacker Technologies, Inc., is headquartered in Brooklyn, NY and is the parent company of Whacker Technologies, Police Lightz, and Emergency City. Whacker Technologies manufactures and sells interior and exterior police lighting, sirens and accessories for vehicles of many industries. For more information please visit http://www.whackerusa.com.