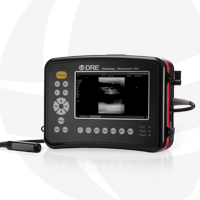 "Now many facilities can afford an ultrasound on any budget." - DRE Veterinary's Director, Nathan Claypool.
Louisville, KY (PRWEB) December 11, 2012
DRE Veterinary recently announced the addition of two new models of Full Digital Veterinary Ultrasound Systems to their already extensive product line in an effort to provide quality equipment for any veterinary medical need at competitive costs.
The DRE V900 Portable Digital Veterinary Ultrasound is a high-quality, cost efficient and portable solution for bovine, equine, swine and sheep use. At just more than 5 lbs, this workhorse features a 7" LCD monitor, rechargeable built-in battery and multiple transducer options perfect for handheld in field use.
The DRE N500 Digital Veterinary Ultrasound is a compact but high performance B/W ultrasound scanner within any budget. With the growing need of an ultrasound with multiple applications, this unit is equipped for canine, feline, equine, swine, bovine and sheep use. Weighing only 14 lbs, this ultrasound offers a built-in battery for portability, one key push functions for easy imaging, various data storage possibilities and a 12" LCD monitor.
"The DRE N500 and V900 will have a positive impact on the veterinary market due to such a reasonable price for high-quality products," commented DRE Veterinary's Director, Nathan Claypool. "Now many veterinary facilities can afford an ultrasound on any budget."
Since 1984, DRE Veterinary has been one of the largest and most reliable suppliers of equipment to animal health professionals around the globe. The company's extensive selection, combined with the thorough knowledge of DRE's sales staff and biomedical engineers, are an excellent resource for veterinary practices and research facilities of all shapes and sizes.
DRE Veterinary has an extensive catalog of other veterinary medical supplies and accessories, in addition to their equipment lines. Browse DRE Veterinary's full line of accessories, supplies, and equipment at http://www.dreveterinary.com.
About DRE Veterinary
DRE Veterinary is a premier supplier of veterinary and laboratory research equipment. DRE Veterinary provides new and refurbished veterinary medical equipment to universities, surgery centers, research facilities and veterinary practices around the globe. DRE Veterinary's parent company, DRE Inc., was established in 1984 and offers value to doctors by providing the features and reliability they need while fitting within their budget.