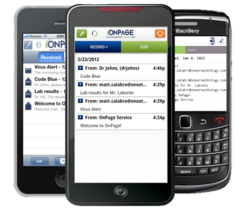 "Unlike traditional pagers, OnPage ensures that no messages will ever be missed."

Judit Sharon, CEO of Onset Technology,
Waltham, MA (PRWEB) December 13, 2012
The Foundation will utilize OnPage within its IT department to support immediate communication needs and to reduce server downtime.
This Foundation is continually innovating the healthcare system by making it more accessible, affordable, and patient-friendly while at the same time improving the quality of care. With one central IT department supporting its six medical groups, efficient and reliable communication is essential.
Using OnPage, the Foundation is now bringing the same level of innovation to its communication needs as it did to healthcare. This includes the ability to communicate securely through both cell service and WI-FI, send continuous paging alerts and repeated delivery until message receipt, receive actual read acknowledgement automatically when recipients read their messages, create and manage groups through the OnPage Console, keep a log of the entire communication chain for traceability, and all with HIPAA-compliant encryption for security.
Furthermore, since OnPage runs on most smartphones, there is no longer the need for essential personnel to carry an additional pager device. OnPage converts any iPhone, Blackberry, or Android device into a secure, fault-tolerant communication system.
Based on its success with OnPage thus far, the Foundation is preparing to deploy OnPage Priority Messaging to its physicians and other essential medical and administrative staff.
"Unlike traditional pagers, OnPage ensures that no messages will ever be missed, "says Judit Sharon, CEO of Onset Technology, creator of OnPage. "This Foundation has tested our product and started deployment throughout the organization. We couldn't be more pleased!"
ABOUT ONSET TECHNOLOGY
Onset Technology is a leading provider of mobile messaging solutions to organizations with secure priority communications requirements. The company's latest solution OnPage™ turns iOS, BlackBerry or Android smartphones into secure digital pagers with additional capabilities such as massage status notification to the sender and secures messaging to individual, groups or escalation group. OnPage is device agnostic and carrier agnostic, supported by an enterprise-grade secure messaging and paging platform. Onset Technology's OnPage is now used by over 1,000 organizations, including those in healthcare, emergency services, information technology, financial institutions, the legal profession, and government agencies. For more information about OnPage, visit http://onpage.com/ . For other products by Onset Technology visit http://onsettechnology.com/