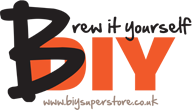 If you can make a cup of tea you can brew your own beer!
(PRWEB UK) 10 December 2012
B-I-Y Superstore, "for whatever [tipples] your fancy this Christmas!"
Ever fancied brewing beer, wine or distilling spirits? Then now is the perfect time to take action and indulge in some self-made Christmas cheer!
Re-launching and re-branding from its previous alias MillTop homebrew, just in time for Christmas, BIY Superstore ("Brew It Yourself") is a website specifically curated for new and existing home brewers. "Brew it yourself" is the one-stop shop and resource for all home brew kits, equipment, ingredients and know-how. The site features everything required to fulfil home brew aspirations, with hundreds of products available from starter kits to how-to guides.
Sue and Richard, owners of BIY are re-launching with a new base in the Butter Market at Newton Abbot, with over 1000 products available, and over 500 available on the new website. Priding themselves as being "one of the best homebrew shops in the South West" Sue and Richard "plain and simply just love home brewing!"
Sue herself is "really excited for the re-launch, when Richard and I started home-brewing there wasn't a great deal of content available on the web, so we wanted to create a place with a huge offering to simplify the brewing process for other brewers, everything that was needed, all in the same place."
She continues to say that, "people assume that home brewing is really difficult, admittedly it's as much as a science as an art form, but if you can make a cup of tea, you can brew your own beer!"
With customer care at the top of their agenda, Sue and Richard are more than happy to help with all brewing queries; this can be done online, via telephone or you can even pop in to see them. With plenty to learn and even more to offer the pair believe that B-I-Y is the best online resource for home brew perfection.
BIY is a product of their love for home brewing combined with the desire to make it better. With over 1000 items in stock, all tried and tested in house there really is no better place to stock up and create one's own home brew this winter. Some might even call it a home brewer's paradise.
Improve the home, make beer in it! B-I-Y, Brew It Yourself.
Notes to Editor:

For further information or to arrange an interview, please contact Anna Powell, PR & Communications officer for BIY Superstore, on 01225 784153 or email anna(at)itsproof(dot)co(dot)uk
Photos available on request