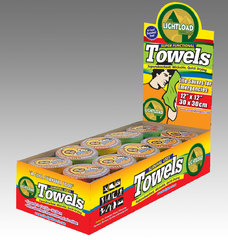 "Every tenth of an ounce counts when you're carrying weight any distance. These towels will save you on the trail."
Miami,Florida (PRWEB) December 10, 2012
Anticipating the holiday season, Lightload Towels, the maker of the only travel, utility, and all-around sports towel that doubles as a survival tool, has adjusted their packaging and price points for exceptionally affordable and must-have stocking stuffers and holiday gifts for any outdoor enthusiast.
Providing a fifty-piece box of 12x12inch hand towels. Lightload Towels allows customers to purchase these towels at a price point of less than a .50 each. They are easy to ship: the entire box of utility-size towels weighs less than two pounds. Two-packs of utility towels available at just $2.71 will whet the outdoor adventurer's taste for these exceedingly useful camp and travel towels.
The towels come shrunk down into amazingly small discs that slide into the smallest spaces—for instance, nicely filling out the toe of a Christmas stocking. They are released to full size with a little water: simply drying wet hands will do the trick. And they are more absorbent than cotton or microfiber towels and ultra-lightweight, even when wet. Eight of the smaller towels are about equal in weight to a bandanna. They are reusable and can be washed and used again. These handy outdoor towels even come in a full-size beach towel that weighs less than many regular hand towels, at just 4.5 ounces and they fit in your pocket.
"Every tenth of an ounce counts when you're carrying weight any distance," emphasizes an avid hiker and dedicated user of Lightload Towels. "These towels will save you on the trail."
Developed from an idea formed by founder, George Wheeler, during a 1999 hike of the Appalachian Trail, Lightload Towels provide the ultra-light answer for every sports and outdoor enthusiast when it comes to clean up, dry up, warm up or wrap up needs. For additional information, please see product details and special offers for both retail and wholesale towels at http://www.ultralighttowels.com.
For Complimentary Samples CONTACT:
George Wheeler, Founder
Lightload Towels
P.O. Box 4446
Deerfield Beach, FL 33442
917-922-0154
info(at)lightloadtowels(dot)com