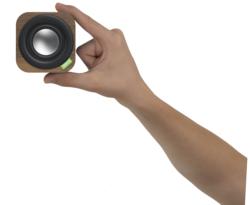 "I'm in love... 1Q stands above with great design and sound" –TechCrunch.com.
Saxonville, MA (PRWEB) December 08, 2012
Vers Inc announces its newest Q line, mobile, wood housed, Bluetooth, speakers that fit in the palm of your hand.
The Vers 1Q offers a single 2" full range speaker. The Vers 2Q, 1Q's big brother, delivers stereo sound anywhere you need it. Integrated Bluetooth 2.1 A2DP provides a wireless audio connection to nearly all smart phones, laptops and tablet devices on the market.
Both Qs are palm-sized and compact, capable of filling a room with warm, natural sound. Hand-finished wood cabinets enhance the quality of sound and look sleek in any setting.
Vers 1Q: 3" x 3" -- Single speaker -- $119.99
Vers 2Q: 3" x 3" x 6" – Stereo -- $199.00
Both speakers are available in walnut, beech and bamboo. Included with each speaker is: USB charger, charging cable, and cotton carrying bag.
The eco-story: Vers Inc. designs and produces environmentally thoughtful sound systems and accessories for mobile devices. Every Vers sound system is built with sustainably sourced hardwoods, packaged in 100% recycled material and consumes less energy than most on the market. For each tree used in production, Vers Inc. plants 100 through a partnership with The Arbor Day Foundation and the U.S. Forestry Service.
The Vers hand-crafted wood sound system and mobile accessory brand was founded in 2007 and is distributed in over 30 countries. Vers is committed to making beautiful, high quality sound systems and mobile accessories that are more environmentally thoughtful.