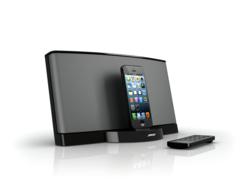 Framingham, MA (PRWEB) December 08, 2012
Today, Bose introduces the SoundDock® Series III system, its first SoundDock digital music system designed for use with the iPhone 5, iPod touch (5th generation) and iPod nano (7th generation).
Now, owners can enjoy the iconic Bose SoundDock combination of small size and full-range audio performance from any iPod or iPhone model with a Lightning connector. An included remote control operates the system and the basic functions of the iPod or iPhone, and can switch back and forth between playlists. For flexibility and convenience, the SoundDock III system features an auxiliary input to connect other audio devices, and charges the iPod or iPhone while docked.
The Bose SoundDock III system incorporates a proprietary acoustic design and digital signal processing. The result is accurate, detailed, room-filling sound without increasing the system's width or depth. The SoundDock III system's industrial design is signature Bose, maintaining clean, modern lines, and a sleek, slim profile.
The Bose® SoundDock® Digital Music System Story
Originally introduced in 2004, Bose SoundDock systems changed the way people listen to their iPod and iPhone, making it easier than ever to enjoy digital music out loud from a one-piece system. Today, SoundDock systems enjoy a global following, with a level of performance and simplicity that continue to define the category.
Availability
The new SoundDock Series III system will be available from Bose beginning December 8, 2012 in Gloss Black for $249.95. It will be sold at authorized Bose dealers, Bose retail stores, online at http://www.Bose.com and toll-free at 1-800-444-BOSE (2673).
About Bose Corporation
Bose Corporation was founded in 1964 by Dr. Amar G. Bose, professor at the Massachusetts Institute of Technology. Today, the company is primarily known for acoustics; however, its research has resulted in products for non-audio fields. Bose inventions have improved the performance of:

Loudspeakers
Home entertainment systems
Automotive music systems designed for the interior acoustics of each car model (first introduced by Bose)
Noise-reducing headsets for pilots and the public (first introduced by Bose)
Sound in public spaces
The production of sound for musicians requiring electronic amplification of their instruments
Materials testing and durability simulation instruments for biomedical, industrial and commercial applications
Driver suspension systems for heavy-duty trucks
# # #
iPhone, iPod, iPod nano, and iPod touch are trademarks of Apple Inc., registered in the U.S. and other countries, and Lightning is a trademark of Apple Inc.