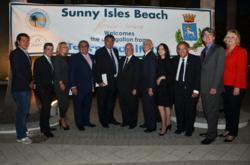 Sunny Isles Beach, FL (PRWEB) December 13, 2012
On Monday, November 19, 2012, the twinning between the City of Sunny Isles Beach and Taormina, Italy was formalized in the David P. Samson Commission Chambers (18070 Collins Avenue). The mayors of both municipalities signed the agreement for this program which falls under the auspices of Sister Cities International (SCI). "SCI is a nonprofit citizen diplomacy network that creates and strengthens partnerships between the United States and the international communities."
With the joining together of these two cities in mind, a delegation from the City of Sunny Isles Beach traveled this summer to the Town of Taormina, on the beautiful Island of Sicily. Delegates remarked on the similarities between the two locations, including world class shopping, seaside hotels, an attractive beach and the fact that both areas are destinations for tourists from around the world. The visitors found the people very welcoming and gracious. The Taormina Commission hosted a grand ceremony and Mayor Norman S. Edelcup signed the Italian version of the Twinning Agreement.
In November, the delegation from Taormina, Italy visited Sunny Isles Beach and Mayor Mauro Passalacqua signed the English version of the Twinning Agreement. The event was as ceremonious and joyful as the signing in Taormina. To welcome the Italian visitors, two young musical prodigies from the Norman S. Edelcup Sunny Isles Beach K-8, Biana Pinchuk and Brandon Goldberg, played for the guests. Their performances included a presentation of the Italian National Anthem.
The two municipalities are now officially joined as International Sister Cities, with the goal to promote commerce, tourism and culture across the ocean. Plans are in process to extend special privileges to visitors traveling between both cities. A cultural exchange is being designed to introduce students from both cities to each other via Skype. With an eye on the future, the older generation hopes to promote understanding between the two cultures and to continue the relationship into the next generation.
For more information about Sister Cities International go to Sister Cities International or contact the Cultural & Community Services Department at 305.792.1706.