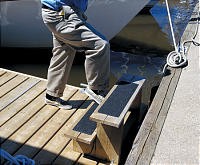 "By installing anti-slip tape on our dock and the steps leading to the dock resulted in our homeowner insurance premiums to go down. Thank you Creative Safety Supply for anti-slip tape!"
Lake Oswego, OR (PRWEB) December 13, 2012
According to OSHA's 2012 list of most frequent cited violations, the number one violation was fall protection. Creative Safety Supply, a leading supplier of safety products, is now offering a variety of non-skid floor tape and anti-slip liquid coating that can be used to prevent unnecessary accidents caused from slipping or falling. Non-skid floor tape can be used in many different workplaces, home environments, sporting and entertainment arenas, marine and shipping yards, clinics and hospitals, senior citizen housing and the list goes on and on. Creating safety line markings by applying non-skid tape will assure safety and the prevention of accidents.
Billions of dollars are spent each year on law suits aimed at establishments or personal homeowners when slips or falls happen on slippery or wet floors or unmarked steps causing serious injury or even deaths. The anti-slip tape withstands outdoor environments and is a great product to use around marine yards and even water front home settings. Dock areas and steps leading to the dock or water recreational vehicles are continuously getting wet from foot traffic and wet platforms can cause serious slips or falls. Marine yards have areas where boats or other water recreational vehicles are repaired and cleaned causing wet pavement or grease spots. Employees need to feel comfortable about their safety when working around slippery areas and the anti-slip liquid coating is the perfect solution for preventing accidents from happening. A homeowner of a water front cabin commented, "By installing Non-Skid tape on our dock and the steps leading to the dock resulted in our homeowner insurance premiums to go down. Thank you Creative Safety Supply for Non-Skid tape!"
For more information about non-skid floor tape or other safety products, please visit http://www.creativesafetysupply.com/Aisle-Marking-Tape/ or call toll-free (866)777-1360 to speak with a professional representative.