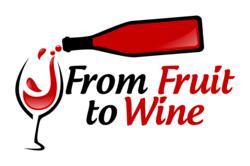 Emphasizes wine education while also simplifying the winemaking process
(PRWEB) December 11, 2012
Anyone who has dreamed of making wine now has an easy way to get started. The new From Fruit to Wine (FFTW) wine-making kit, available in six varietals, emphasizes wine education while also simplifying the winemaking process by offering pre-packaged ingredients and clear, easy-to-follow directions.
"What's different about the FFTW kit is its universal appeal, emphasis on wine education and the value it offers for the experience it provides," explained FFTW Director Adam Hirschkatz. "The system was designed for the wine novice and experienced wine drinker alike and offers a simplified way to make ten bottles of homemade wine for under $100. There's nothing quite like serving a bottle of wine you made with your own 'winery' label on it. And not only can you serve a great bottle of wine, but you can also explain how it was made to your friends and family."
The FFTW starter set makes the winemaking process simple and fun with the inclusion of:

Pre-portioned ingredients (to be paired with common household materials);
All of the equipment needed to make wine;
Step-by-step instructions;
Blank, customizable wine bottle labels; and
Your Wine Book, featuring sections on wine history, winemaking, party ideas and wine tasting.
Each set makes 10 bottles of one wine varietal and sells for $99. Ingredient re-stocks are $39. Six varietals of wine are currently offered: Merlot, Cabernet Sauvignon, Petite Sirah, Pinot Chardonnay, Johannisberg Riesling and Sauvignon Blanc.
About From Fruit to Wine
Based in Seattle, From Fruit to Wine (a Varietal Hobbies company) offers a complete home winemaking experience. The From Fruit to Wine system is a self-contained winemaking system that includes everything needed to make wine, step-by-step instructions, wine bottle labels and information to help users learn about wine history, winemaking and wine tasting. To find out more about From Fruit to Wine, visit the From Fruit to Wine Facebook page or http://www.fromfruittowine.com.