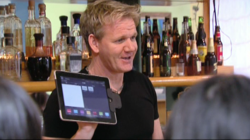 ...the most amazing, state of the art point of sale system - Gordon Ramsay
Albuquerque, New Mexico (PRWEB) December 07, 2012
FOR IMMEDIATE RELEASE
Albuquerque, New Mexico — December 7th, 2012
APG Cash Drawer, LLC, the leading manufacturer of cash drawers, announced today they will be featured on the hit TV show, Gordon Ramsay's Kitchen Nightmares on FOX. The next episode, set to air on 12/7, will feature APG and POS Lavu, an iPad based software company. The show focuses on helping failing restaurants by improving their daily routine, so they can focus on doing better business.
APG and POS Lavu were also featured on a series of kitchen Nightmare episodes earlier in the year. The new point of sale system, provided by Zephyr Hardware, was a welcome surprise to the management and staff of a failing burger restaurant. Ramsay himself called this innovative point of sale solution "the most amazing, state of the art point of sale system."
Ramsay works with struggling restaurants to get them turned around and improved in any way possible. From the menu items and management procedures to the décor on the walls. And when it comes to improving business practices and tools, a main concern for many restaurants is their point of sale. The new POS system took only an hour for the restaurant staff to learn, making it one of the most efficient POS solutions on the market today.
"The nature of the show is to help a failing restaurant get back on its feet and make them better than ever," said Ben Harrison, a POS Lavu spokesperson who was on set for the filming. "That's what we do for all of our customers - we help make their business processes simpler and more efficient."
"APG is proud and honored to be included in this solution," stated Mark Olson, President of APG Cash Drawer. "By installing new, mobile POS solutions, restaurants can improve the overall customer experience. This POS package is a platform to help restaurants revive their current operations and ultimately improve their business."
The next episode will air December 7th on FOX at 8/7c. Tune in to see Gordon Ramsey and one of the most innovative iPad POS systems available to restaurants. Watch some of the previous clips here.
About POS Lavu (http://www.POSLavu.com)
Founded in Albuquerque, NM and operating worldwide, Lavu Inc. was formed as a solution to common point of sale problems and restaurant industry issues. Lavu Inc. offers POS Lavu as a full-featured point of sale at a fair price. Through cloud computing, wireless mobility and multi- touch devices, POS Lavu redefines the entire approach to restaurant business management.
About APG Cash Drawer (http://www.cashdrawer.com)
APG is the retail industry's leading manufacturer of cash drawers and other POS related products. Serving thousands of customers around the world, APG has a reputation as a designer and manufacturer of the most durable and dependable cash drawers in the industry. Our heavy-duty products will be the most reliable component in your workstation. APG offers a wide range of drawers for applications found in Retail, Food, Hospitality and Convenience Stores.
###
Media Contacts:
APG Cash Drawer, LLC
Breanna Brown, Marketing Coordinator
763-571-5000
sales(at)apgcd(dot)com
POS Lavu
Ben Harrison
855.767.8255
ben (at) lavu (dot) com