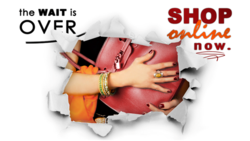 We are excited to give our loyal fans and customers instant access to our great products and to introduce our styles in areas we never reached before.

- Oscar Guzman
Marketing & Project Manager, BT Fashions
(PRWEB) December 10, 2012
Just in time for the holiday shopping season, Bijoux Terner unveiled its long-anticipated Online Boutique.
The global retailer, famous for its lines of affordable fashion accessories, launched the website on November 21. The online boutique brings the company's wildly popular collections of jewelry, watches, scarves, pashminas, ties, bracelets, necklaces, hair accessories, travel bags and evening bags along with other stylish accessories to the fingertips of fashionistas across the United States.
The online boutique was launched just in time for the holiday season. With a wide assortment of over 1,000 styles, there is sure to be something for everyone on a fashionista's holiday shopping list. All Bijoux Terner accessories are available at the irresistibly low price of $10. Beginning on December 5th, the site is running its "12 Days of Style" holiday promotion. Each day, a new collection of products is available for 20% off. Shoppers who spend $50 or more also receive free shipping.
Bijoux Terner has been delighting fashionistas around the world with its collections of affordable fashion accessories for nearly 40 years. The iconic brand, famous for its locations in cruises, airports, resorts, and casinos, and other travel retail locations, can be found in over 60 countries around the world but, until now, never online.
"We are excited to give our loyal fans and customers instant access to our great products and to introduce our styles in areas we never reached before," said Oscar Guzman, Marketing & Project Manager at parent company BT Fashions.
Since its launch only a few weeks ago, the company has already added new collections and will be introducing the latest styles of its premium AdiXion brand ahead of the holidays.
"In addition to our great lines of Bijoux Terner," adds Gabriela Rivas, Director of Customer Service & Store Operations, "our AdiXion line includes wonderful statement pieces for shoppers looking for high fashion accessories."
The website itself features a minimalistic design with the company's usual attention to the customer experience. Shoppers can browse by product category, shop by color, search the company's catalogue, and browse styles for men and items for kids. For those who prefer to shop in person, the company will soon be launching a locations function that finds the nearest Bijoux Terner boutique.
To learn more, register to be a Certified Fashionista on bijouxterner.com or the Bijoux Terner Facebook page at http://www.facebook.com/bijouxternerfanpage.
Certified Fashionistas on The List will receive insider news and updates along with special offers and other perks.
For more information, please contact Marketing & Project Manager Oscar Guzman at: oguzman(at)btfashions(dot)com.
---------------------------------------------
BT Fashions, the company behind Bijoux Terner and the leading gift specialist in the travel retail channel, pioneered the "all items, one price" concept in the world of fashion. The award-winning company offers a full range of fashion-forward accessories and gift items inspired by high-end style trends from around the globe. BT Fashions leads the simple-pricing market by sourcing and designing high value products at value-added pricing, producing quality merchandise unmatched in the industry. Established in Miami in 1974, BT Fashions accessories can be found in nearly one thousand locations in over 60 countries across 6 continents around the world.