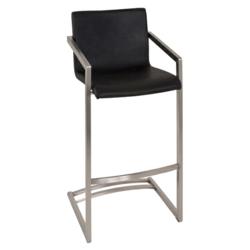 (PRWEB UK) 10 December 2012
FurnitureInFashion, world renowned for its gracefully manufactured contemporary and modern furniture, adds a new leather bar stools to the Benito barstool range by using pure leather. Benito Genuine leather black bar chair features geometrical design and original leather. The design of the barstool is a typical representation of FurnitureInFashion and is easily recognizable. By relying on classic forms, design purity and natural materials, FurnitureInFashion has brought forth a stylish yet utilitarian design in Benito barstool. The fluidity of Benito barstool's design creates interesting and modern impression. The intrinsic beauty and strength of this barstool executed in a contemporary manner adds depth to the bar stools catalogue of FurnitureInFashion.
The Managing Director and owner of FurnitureInFashion Asad Shamim said, "FurnitureInFashion maintains an exclusive range of barstools available in several different materials including steel, wood, chrome and fabrics like leather and velvet. We have a complete range of highly functional barstools and Benito barstool black leather is one of them. We are excited about the launch of this barstool and hope to make a convincing impression on our customers."
Barstools have been a trademark of FurnitureInFashion since the company was founded in 2008. At once esthetically pleasing and strong, the barstools offered by the company are made by fusion of Italian design concepts with German manufacturing processes. The creation of Benito black barstools with genuine leather is what makes this beautiful barstool distinctive. This beautiful barstool comprises of genuine leather to provide maximum seating experience supported by stainless steel frame. The use of real leather in this bar stool will last long due to its superb quality. Leather is generally known to appear better and stronger with aging which makes this barstool a life time investment. High quality of steel has been used in the steel frame of this bar stool in order to provide stable and durable seating. The barstool has a comfortable back along with generous space and offers comfortable and deep seating. With a width of 49 cm, diameter of 55 cm and height of 130 cm, Black Benito barstool is an excellent seating for long hours. The barstool has a fantastic design with eye catching frame that gives an overall unique look to the stool. Beautifully polished steel framework of Benito barstool can add enormous style and chic element in any room.
"We are particular excited about this new design in our signature barstool ranges. Benito genuine leather barstool has is appropriate for contemporary and transitional kitchen. It has been scaled specifically for counter-height seating," says Asad Sahmim, owner of FurnitureInFashion.
He also added, "FurnitureInFashion's barstools are one of our most sold and bestselling items. Our barstools are increasingly popular among commercial retailers like bars, ice cream shops, restaurants and home bars due to their broad selection of styles and affordability. Our Benito barstool in black leather is not only ideal for your home bar but can be a comfortable and practical addition to a bar or other commercial use."
The barstools range of FurnitureInFashion is available on lowest possible prices. Cheap barstools are available without compromising on the quality and durability. The inspiration for manufacturing the barstools come from the innovative, industrial and contemporary environment which makes these barstools ideal for contemporary bars and homes. FurnitureInFashion is offering extremely reasonable price for Benito leather barstools along with free delivery service within the UK.
About FurnitureInFashion
FurnitureInFashion is a UK based online retail business. It supplies furniture items from its German based warehouse and has a showroom in Bolton, UK. The company provides everything from umbrella stand wall art and room dividers to bedroom, bar stools and computer tables. FurnitureInFashion offers excellent free delivery within UK and has a fantastic customer service as well. For further information and details about the sale, visit http://www.furnitureinfashion.net