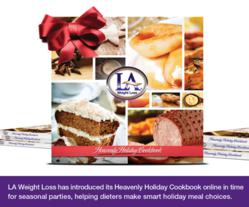 "At LA Weight Loss, we understand it's important for you to eat the foods you love with the people you love, while fast-tracking your weight-loss goals." Caroline Kolompar, CMO
Greensboro, North Carolina (PRWEB) December 10, 2012
With platters of food, snacks and goodies seemingly everywhere this holiday season, weight loss may feel like a daunting task. LA Weight Loss is pleased to make its healthy holiday survival guide, the Heavenly Holiday Cookbook, available online in time for the holiday party season.
Traditionally, the holidays are often thought of as a time when one can trim the tree or enjoy a meal with all the trimmings, but the focus is never on maintaining a trim waistline. Now's the time to begin new traditions! Enjoy a healthy holiday by making smart choices that will lead to weight-loss success – even during the trickiest time of the year. Here's how:
The Potluck – A potluck is a perfect chance to make one's own luck and get the best odds for avoiding holiday weight gain. With control over at least one dish on the table, it's possible to introduce a new recipe like Baked Chicken Breast with Roasted Apples or Glazed Ham to the buffet table. Both weight loss recipes are found in the Heavenly Holiday Cookbook. After warming up to a hot dish like that, it's easier to seek out the crisp green salad or fruit or veggie platter once a staple protein's already on the plate.
Spice Things Up – Enjoy a new twist on a potluck get-together by suggesting a feast that focuses on different regions of the world. Organize dishes by having everyone draw recipes from the Heavenly Holiday Cookbook such as Potato Latkes, Black Forest Mousse, Pan-Grilled Chicken with Cranberry Salsa or Snow Pea Salad. Or why not introduce a healthy chickpea curry or grilled jerk chicken to the holiday table? The point is to use regional herbs and spices to flavor meats, vegetables and even baked goods, adding zest without adding fat or calories.
The Multi-Course Feast – Start a new tradition by suggesting a short walk between courses. Usually, right before dessert is a good opportunity to move around and clear dishes. Once the coffee is brewing, lead the group on a walk around the block to check out decorated houses or go caroling or canvassing to raise money for a worthwhile cause.
The Hostess with the Most Options – Hosting a holiday get-together at home gives the hostess the most opportunity to prepare healthy, delicious meals that are full of flavor, not fat. Use the Heavenly Holiday Cookbook to prepare old and new favorites such as Brown Sugar Glazed Sweet Potato Wedges, Beef Tenderloin with Port Beach Plum Reduction, Cranberry Glazed Pork, Crispy Green Beans and Roasted Turkey with Mushroom Gravy. End on a sweet note with Caramel Apple Pie or Coconut Gingerbread Cake.
"Food is the cornerstone of many of our holidays and relationships – it's how we socialize and connect with one another," said Caroline Kolompar, Chief Marketing Officer of LA Weight Loss. "At LA Weight Loss, we understand it's important for you to eat the foods you love with the people you love. That's why our team of nutritionists have developed amazing recipes that fit every occasion, while fitting and fast-tracking your weight-loss goals."
About LA Weight Loss
Since 1997, LA Weight Loss has helped millions of people reach their long-term weight loss goals. With the convenience of LA's at-home program, members lose an average of one to two pounds per week and learn how to keep it off for good. At LA Weight Loss, healthy living is not just for the rich and famous – it's for everyone. For more information about LA Weight Loss, visit http://www.LAWeightLoss.com.