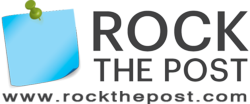 RockThePost is already raising thousands of dollars for small businesses
New York, NY (PRWEB) December 10, 2012
President Obama signed the JOBS Act into law on April 5th, 2012. As a result, Congress instructed the Securities and Exchange Commission (SEC) with the task of drafting the regulations that will cover the equity crowdfunding space. Until they finesse these changes, crowdfunding platforms will not legally be able to exist as equity based models without operating under the license of a broker-dealer.
Prior to the JOBS Act regulations being implemented, RockThePost is already raising thousands of dollars for small businesses via its state of the art crowdfunding platform. This was noted by TIME in an article published in November 2012, where they mentioned RockThePost as one of the leading crowdfunding platforms in the world.
Many small businesses have been able to benefit from RockThePost's intuitive platform and extensive customer service. Here is a selection of notable small businesses that have successfully fundraised with RockThePost:
1) Musicx.fm. This company was able to raise $20,429, which was the amount needed for the development of their music platform. Here is their project.
2) Jesse Aizenstat. This author was able to raise $20,105 for the marketing campaign of his latest book "Humanizing The Middle East Through Surfing," describing his experience surfing the most dangerous areas in the Middle East. Here is his project.
3) Heidi Paula. 2011 Vogue's Talent winner and 2012 best fashion designer nominee in Denmark obtained $15,010, the necessary funding to produce her next collection. Here is her project.
4) Villy Custom Bicycles. One of ABC's Shark Tank success stories, this company was able to raise $10,032 to produce their next line of bikes entitled "Reflect a Glow". Here is their project.
About Rock The Post
Rock The Post is a crowdfunding website designed to fund small businesses and entrepreneurs. It is the ideal tool for entrepreneurs to leverage networks, reach out to new contacts, and fill in the missing pieces of their projects. Rock the Post provides budding businesses with the means necessary to amass resources and flourish.