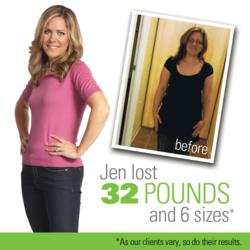 "The best part is that the Herbal Magic weight-loss program combines real food, a personal health coach and natural products for lasting results." - Fraser Clarke, President and CEO
Toronto, Ontario Canada (PRWEB) December 19, 2012
Keep those New Year's resolutions in 2013 by planning ahead for weight-loss success. While most people honour New Year's resolutions for a short time, many give them up by the end of January. Avoid common pitfalls by making plans to stay accountable.
Here's the skinny on successful weight loss:
Start a food journal – Calories can quickly add up. Tracking meals and snacks is an easy way to see how just a bite here and there can lead to unwanted pounds.
Supplement those best laid plans – There's growing evidence to suggest that natural health products like Conjugated Linoleic Acid (CLA), green tea and kidney bean extract help support healthy weight loss. It's important to check with a physician who can screen for potential drug-herb-nutrient interactions before beginning a new natural supplement regimen.
Make time for rewards – Losing fifty pounds seems like a daunting task, which is why it's important to set short-term and long-term goals. Small rewards – like a new hairstyle or spa day – for smaller milestones (like losing five or ten pounds) makes weight loss seem more attainable because it's possible to reach goals faster when those goals are more realistic.
Lastly, beginning a new weight-loss program with a friend is a great way to stay accountable in the process. Aside from the obvious benefits of having someone like-minded that shares similar goals, beginning a regime with a friend is motivating. Success breeds success and seeing others reach their goals is inspiring. Make it easier to get active by penciling in fitness: Make a date with a workout buddy to go for a walk or use that gym membership. Psychologically, it'll be harder to quit a new get-healthy routine if it means letting someone else down. But even after teaming up with a weight-loss partner (whether it's a best friend, coworker or spouse), sometimes everyone needs an extra push.
Herbal Magic can help. Herbal Magic uses a common sense approach for lasting weight loss with nutritional and health experts who have designed a comprehensive system for weight loss. Going solo on that weight-loss journey? Herbal Magic's Personal Health Coaches can provide support along the way. Herbal Magic helps regular people develop habits for maintaining their ideal weight for the long term. Real food, a Personal Health Coach and natural products – its common sense and it works!
Best of all, Herbal Magic has recently opened 10 of its weight-loss centres across Canada in the last three months! From coast to coast, there's a centre close by that can help more and more Canadians make those resolutions a reality. Check out Herbal Magic's handy location finder to get started!
"With over half of Canadians today being overweight or obese, we are extremely excited to be able to add over 10 centres this year – that's 10 more centres filled with enthusiastic and knowledgeable staff who can help people in the community get to their goal weight," said Fraser Clarke, President and CEO of Herbal Magic Weight Loss Centres. "The best part is that the Herbal Magic weight-loss program combines real food, a personal health coach and natural products for lasting results. So you not only learn how to lose weight, you learn how to keep it off."
About Herbal Magic Weight Loss & Nutrition Centres
With approximately 280 centres nationwide, Herbal Magic is the largest Canadian owned and operated weight-loss company in Canada. Every Herbal Magic Canada team member has been extensively trained and certified as an Herbal Magic Personal Health Coach. With the support of its Scientific Advisory Team – comprised of naturopathic doctors, nurses and dieticians – Herbal Magic's weight-loss experts have the experience, training and tools needed to support clients throughout their weight-loss journey. Herbal Magic's comprehensive system of real food, personal health coaching and natural health products is, quite simply, a common-sense approach to lasting weight loss. Visit http://herbalmagic.ca to learn more.