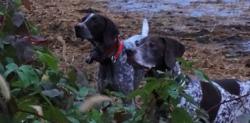 These days the world is earth-conscious... Dog collars and leashes are no different.
Boonsboro, Maryland (PRWEB) December 19, 2012
Ruff Again lives up to its motto of "Use your stuff again!" This little company with a big message located just a mile off of the Appalachian Trail in Boonsboro, Maryland is using stuff again to make earth-friendly recycled dog collars and leashes.
Why use a dog collar made with reclaimed material? There are many reasons why dog owners should choose a recycled dog collar.
First, and most obvious, waste. Rather than using raw materials and textiles that must be mass produced, shipped out, and then produced into a dog collar Ruff Again takes materials that have already been used, for example bicycle inner tubes or seat belts, rescues them from being discarded into the trash and landfills, and up-cycles these materials into dog collars and leashes.
The second reason, reducing the carbon foot print. "[C]arbon footprints measure how much carbon dioxide (CO2) we produce just by going about our daily lives. A drive to work, a flip of a light switch and a flight out of town all rely on the combustion of fossil fuels like oil, coal and gas. When fossil fuels burn, they emit greenhouse gases like CO2 that contribute to global warming." 1
By taking and using materials that already exist - that don't need to be produced and shipped prior to even being made into a dog collar - Ruff Again reduces the carbon footprint associated with production of the products. And Ruff Again goes one step farther. In addition to making earth friendly dog collars made with recycled materials, some of its collars include fabric made from recycled plastic bottles.
The third reason, easy, it's in style. These days the world is earth-conscious. Green grocery bags, hybrid cars, and organic produce are just some examples of society trying to be a bit more considerate of the Earth and the environment. Dog collars and leashes are no different. While there are some products out there that are made with organic materials, there is a limited selection of products available for dog owners made with recycled or reclaimed materials and that are durable and functional products.
Another reason - it's in style . . . but in a different way. Ruff Again's earth friendly dog collars are colorful, stylish, and the offered colors and designs range from preppy to biker tough. Ruff Again offers a variety of colors and designs to match the variety of lifestyles out there.
How about more practical reasons...
Comfort. Ruff Again's dog collars made from recycled inner tubes are soft and flexible. Dog collars made from recycled seat belts are also soft because they are made of a tighter weave than normal nylon webbing used for dog collars. Think of sheets and thread count . . . .
Durability. Dog collars made from recycled seat belts are soft and very rugged and durable.
Water & smell resistant. Dog collars made from recycled inner tubes are also resistant to water and smells. Except for the fabric overlay for design, there is simply no fabric to absorb the smells or to absorb water.
So whatever the reason, and there are many, going green with your dog is clearly the way to go. With so many options to choose from, from flames to stripes to flowers to camouflage, Ruff Again offers dog collars and products that really are earth-friendly.
Check Ruff Again at their website for more information or LIKE them on Facebook.
=======================
1 Dowdey, Sarah. "How Carbon Footprints Work" 16 August 2007. HowStuffWorks.com. 18 December 2012.