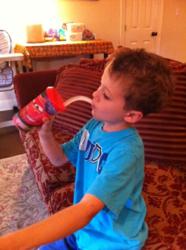 "Stem Cell Treatment has Provided Hope and Changes to the Lives of Kell and Family Forever"
Cancun, Mexico (PRWEB) December 24, 2012
Improvements are being seen in children with Autism Spectrum Disorders (ASD) following their Stem Cells Treatment at the World Stem Cells Clinic.
Autism is a serious developmental problem appearing in early childhood. Before a child turns three-years-old, ASD/Autism can usually be detected. Symptoms seen and the severity of a child's Autism will vary. Autism affects the ability of a child to interact and communicate with others.
Sadly, there is not a cure for Autism, but intensive Autism treatment early on can make an enormous difference in the lives of children who have this disorder.
Children who have ASD/Autism have difficulty meeting some of the typical developmental milestones. These milestones include learning to use the washroom, as well as talking and interacting with others. Children with ASD also tend to perform repetitive body movements (stimming), which can make family outings a challenge.
Kell
The mother of a patient who received Stem Cells Treatment for Autism at the World Stem Cells Clinic details the numerous accomplishments that her son Kell continues to make following stem cell therapy.
Kell's mother states that due to the stem cell therapy he received, a completely new environment exists inside Kell's body. Kell is now focusing on objects and doing things that he has never done before.
Kell mastered drinking from a straw in just two days and then began drinking from a typical cup of his own accord. Kell's mother states that she previously attempted to teach him this skill to no avail. She is ecstatic that he decided to complete this task on his own.
Before his stem cell therapy treatments, Kell would choose something in the store to stim with. Another common occurrence was Kell jumping around in a whirlwind of chaos. However, the most recent trip was different from those before it. Kell actually moved alongside the family while they shopped. Before his stem cell treatment, the family would drag him along and keep him from finding objects to stim with.
Kell's mother states that she is amazed at the accomplishments Kell is making within only a week of his treatment. While driving around running her errands she realized how different her life is since Kell received his Autism treatment.
Five years ago, it became evident that something was not right with Kell. Today, his mother states that everything seems brighter. Kell's continued progression is changing their lives. His vocal play and repetitive behavior has decreased by 50 percent and he remains more calm and quieter throughout the day.
This year, Kell is going to blow out his own birthday candles. While this may be a common occurrence for the majority of children, this is an exciting moment for Kell's family because it is the very first time that he is able to do so.
These are just a few of Kell's accomplishments. When she contacted the World Stem Cells, LLC, she said that her goal was to 'unwrap' Kell. Thanks to the Stem Cells Treatment he received, he is beginning to unwrap right on time for the holiday season!
More videos of Kell's stem cell treatment
Drew
According to Andrew's mother, five months after Andrew's stem cell treatment for Autism, she continues to see substantial improvement. Andrew is maturing quickly and she is learning to adjust her parenting skills to match her now older, more sophisticated son.
Although Andrew is chronologically eight-years-old, when he began his stem cell therapy he had only reached the developmental milestones of a three-year-old and his language skills were that of a one-year-old child. Today, Andrew is an interactive five or six-year-old with the language skills of a two or three-year-old. Today, Andrew's comprehension skills are age appropriate.
Andrew can verbally identify what he sees, follow multifaceted instructions, answer questions, read aloud and effectively communicate his needs. Andrew plays WII, enjoys music, sings and dances. He also uses utensils to eat and asks for specific kinds of food and drink.
Andrew's mother states that she continues to see him make astounding gains. Andrew is quickly learning the skills necessary to help him live a more independent life as an adult.
Janik
Within a week after his stem cell treatment, Janik shows a 70 percent improvement in eye contact and a 50 percent improvement in his attention capabilities. He is now in touch with the world around him. Janik's Applied Behavior Analysis (ABA) therapist says that he is easier to work with because he has improved eye contact, which gives him the ability to focus.
World Stem Cells, LLC offers patients advanced stem cell procedures. The contract clinic utilized by World Stem Cells, LLC provides treatments to patients via bone marrow, cord blood and adipose. The cells used can be from donors (allogeneic) or from the patient himself (autologous). The World Stem Cells Clinic does not use embryonic or fetal stem cells. This avoids the potential for the patient to suffer adverse medical reactions.
Dr. Abblitt, Dr Celbalos have worked with ASD children for years and Dr. Kadish the president of World Stem Cells, LLC with almost 30 year working with ASD children has been an active participant in the Defeat Autism Now movement since the 1990′s. He completed both the beginning and advanced courses in the Defeat Autism protocols, per the Autism Research Institute criteria based on their international studies and research. While in clinical practice he was an active participant in the quarterly updates and he continues to maintain a focus on the most current work regarding the functional chemistries and updates in this field. Dr. Kadish's interest in autism and its associated impacts on both the biological and psychological systems has led him to begin a pediatric fellowship leading to a sub specialization fellowship certification, FMAPS.
Rodolfo (Rudy) Lozano (Cancun) and Colleen Powers (USA) are the Care Coordination Directors for the World Stem Cells, LLC World Stem Cells Clinic.
For more information visit -- http://worldstemcells.com
Parents of Autistic children are watching their children thrive. Although there is not a cure for Autism, it seems that the stem cell therapy treatments conducted at the World Stem Cells Clinic are making huge strides in helping children with ASD/Autism reach their full potential.