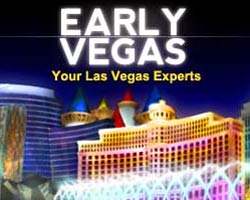 Innovative hotels and resorts in Vegas have taken it to a new level tailoring new and fresh packages that are well thought out...
Las Vegas, Nevada (PRWEB) December 17, 2012
People want value when they travel and statistics show that the lowest room rate does not always win. In Las Vegas, packages and deals are nothing new but the innovative hotels and resorts in Vegas have taken it to a new level tailoring new and fresh packages that are well thought out, constantly changing and offer customers value by packaging various amenities, upgrades and valuable extras into the room package.
One site that makes it easy for consumers to review all the packages, deals and promo code offers in one place is EarlyVegas.com. Just as its name suggests, Early Vegas was early in the game and has partnered with many of Vegas' famous resort hotels by featuring a summary of the most up to date offers in a format that allows users to quickly and easily scan and review offers in advance of navigating through multiple different hotel web sites. Users can quickly select the offer that best fits their interests and book directly on the hotel's official web site.
Here are 5 of the more popular Las Vegas hotel offers heading into the winter season.
1. Winter Escape at Excalibur: With rooms starting at just $28 a night and a basket of specials, the Winter Escape Package at Excalibur is perfect for the extra-thrifty. Use this promo code for a stay through February 4th at the Excalibur Las Vegas. Guests who use this promo code will also receive 2-for-1drink specials at Dick's Last Resort, 10% off purchases at The Spa, beer and shot specials at Octane and 25% off a purchase at Essentials, Dragon's Lair or Kids of the Kingdom. Use promo code - "XGTWAYWB".
3. Vegas Holiday Hoops at MGM Grand: NCAA Basketball is coming to the MGM Grand Las Vegas this winter and this famous Vegas Strip hotel is offering guests a chance to save and see the games. Watch Oregon State University take on San Diego and James Madison vs. San Jose State on Saturday, Dec. 22nd. Then catch Boise State vs. New Orleans and San Diego vs. James Madison on Sunday Dec. 23rd. The Vegas Holiday Hoops Package includes 2 tickets to all 4 games and rooms starting as low as $55 a night. Use promo code "HHCM12" for these exclusive savings at the MGM Grand.
4. Black Keys Room and Show Package at the Hard Rock Hotel and Casino: The Hard Rock Hotel and Casino in Las Vegas always brings in the hottest names in music. This New Year's, The Black Keys with Special Guest Divine Fits, will be playing two shows at The Joint on December 30th and 31st. Room packages are available that include show tickets and VIP Line Passes and more. Promo Code for this offer: None needed… just book directly online.
4. Monte Carlo – Sale for our Social Media Friends: Get social at the Monte Carlo this winter and save up to 15% off luxurious rooms at this famous Las Vegas Strip hotel. The promo includes rooms starting at just $48/n, 24/7 Happy Hour deals at The Pub, 2-for-1 raft rentals at the Monte Carlo Pool and 15% off food at d.vino or the Dragon Noodle Co. The promo code for this offer is "XSOICIAL".
5. Mandalay Bay Winter Getaway: Perfect for couples and valid until February 4th, the Winter Getaway at Mandalay Bay Las Vegas package offers travelers a buy-one-get-one-half-off spa treatment and breakfast at Crossroads. Experience nightlife at the Mix Lounge with a free access pass and enjoy the view from the lounge's 64th floor balcony. And don't forget to check out the Mandalay Bay Shark Reef Aquarium as this package includes a $2 off ticket. Rooms start as low as $60 a night using promo code:
"PCFALLES".
About EarlyVegas.com:
EarlyVegas.com is an authority on how to save money and get the best value when planning travel to Las Vegas. EarlyVegas.com searches the web for the best packages, specials, promotions, deals, and promo code offers that help travelers save and get the most value when booking hotel rooms, tours, and shows in Las Vegas.