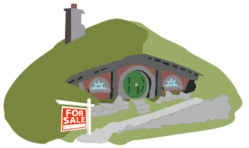 "People always want to know the price of fictional objects. Our blog team took that to heart and created our ongoing series."

San Mateo, California (PRWEB) December 11, 2012
Today Movoto Real Estate, an online brokerage, released a blog post that details how much Bilbo Baggins' home would cost in real life. The post is the latest entry in Movoto's ongoing series on the costs of fictional housing.
"Guessing the costs of fictional houses was always a game around our office, and then we realized other people were curious," said David Cross, the company's content editor. "People always want to know the price of fictional objects. Our blog team took that to heart and created our ongoing series."
The latest blog post details how Movoto estimated the cost of Bag End, the home of some of J.R.R. Tolkien's most recognizable characters, including Bilbo and Frodo Baggins.
Those interested can read the full post here:
http://www.movoto.com/blog/novelty-real-estate/hobbit/
The full post explains how Movoto estimated Bag End's price by finding a real location to use as a price gauge, and how the company calculated the home's square footage.
In addition to the blog post, fans of "The Hobbit" and "The Lord of the Rings" can read more about Bag End on the home's listing page, such as the hobbit hole's monthly mortgage.
Bag End's listing page can be accessed here:
http://www.movoto.com/hobbiton/bag-end.html
About Movoto
Movoto Real Estate launched http://www.movoto.com in March 2006, providing innovative, easy-to-use research tools with ready access to a network of experienced local real estate agents. Movoto.com was the first real estate website to bring a map front-and-center into the home search experience right on its homepage. Movoto now offers its free services in over 30 states. In 2011, Movoto was named #13 on the Inc. list of fastest growing private real estate companies.