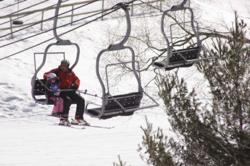 Fort Edward, NY (PRWEB) December 10, 2012
With charming towns and villages, winter scenery, cultural attractions, performances, local shops, galleries and fun outdoor activities, Upstate New York's Washington County offers visitors several winter getaway options.
The rural landscape of Washington County is home to a wide variety of accomplished performing art centers and presenting organizations where you will find world class chamber music, Cabaret and Theater, with performers that include Tony nominees, Broadway and TV talents, and original productions with local performers. The performances take place in unique and unusual places - converted barns, century-old Opera Houses, an 1840 Church, and a prison. A full listing of events can be found online at http://www.washingtonnycounty.com/arts/performing.php
For those interested in history, the Slate Valley Museum features the local history of slate mining in both Washington County and the surrounding area. Also, the Pember Museum showcases the natural history of the area and offers a collection of 10,000 artifacts as well as ongoing exhibits. Military historians will enjoy the Skenesbourgh Museum in Whitehall. Located on the Champlain Canal, this museum highlights the birthplace of the U.S. Navy and the silk industry. Visitors can look across the canal and see the last remaining structure of the seven sisters – Skene Manor. For more information on Washington County's museums, visit the Washington County Tourism website.
Washington County is also home to many art galleries and locally-owned shops featuring local artisans. Stroll through a scenic village or stop by a gallery to find a unique treasure or artwork. A full list of Washington County artists and galleries is available online.
Visitors can snowmobile over 300 miles of trails throughout the county with trails through open space farm land, along the Champlain Canal and in wooded terrain. Nine snowmobile clubs support the trails within the county. Visitors can go to http://wcasc.snowclubs.com for conditions and trail information.
Visitors can enjoy family skiing, snowboarding and tubing at Willard Mountain. Willard offers packages including lift tickets, lessons and rentals for all skiing and snowboarding levels. The popular family ski area also has a tubing park, restaurant, snack bar and lounge.
These are just a few of the fun winter activities in Washington County this season. To learn more about Washington County, New York's winter weekend getaway opportunities and vacation packages, please visit http://www.washingtonnycounty.com.
About Washington County, New York
Uniquely located where the Hudson River Valley meets both the Southern Adirondacks and the Green Mountains of Vermont, scenic Washington County offers visitors charming country roads, covered bridges, agri-tourism and farm experiences, local artisans and cultural activities, charming boutiques for shopping and so much more.