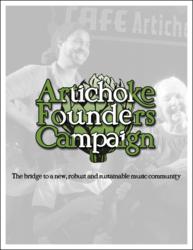 Music has the power to transform lives.
Portland, Oregon (PRWEB) December 16, 2012
Namba Gear reports that Portland, Oregon based Artichoke Community Music launched a strategic planning process that led to the expansion of their school and the creation of a new business model to deliver on the mission of "Everyday Music Making for Everyone." In August of 2012 Artichoke launched the Founders Campaign with the goal to raise $180,000 in three year commitments of $60,000.
When one of Artichoke's Board Members reached out to Namba Gear with a Mission Statement of what they wanted to accomplish, Namba Gear owner Woody Moran enthusiastically agreed to support the campaign. Namba Gear embraced this endeavor because of similar beliefs: that music is a critical part of a creative economy; a belief in life-long learning; and that music has the power to transform lives.
Namba Gear owner Woody Moran commented, "We first became aware of Artichoke through their songwriter performance space, Cafe Artichoke. This is a premier listening room for the audience, and an outstanding performance venue for the acoustic musician. But there is something more... Good Vibes, Good People and a sense of community and love for one another. A place where people really listen to a song and aren't afraid to sing along if invited. A place where performances seem to be magically elevated above expectation. And when you leave, you feel like you just made some new friends and you may be a better person for the experience. It doesn't get much better than that, does it?"
Namba Gear joins other corporate sponsors such as, Bank of the West, KZME FM Radio, and New Seasons Market, in their support of Artichoke Community Music.
Artichoke Founder's Campaign Co-Chair, Ken Vigil, states, "I believe strongly in the power of music to keep us alive and well through the many joys and sorrows of a well lived life. We have sad songs to feed our sullen moods and happy songs for times of celebration."
Moran continued, "If there was ever an organization that deserves support because of their good works, this is it. Namba Gear is so proud to lend Artichoke a helping hand."
About Namba Gear:
Namba Gear is a Portland, Oregon based bag and accessories company that designs and produces premium, high performance transport solutions for the working musician. The essence of the brand is defined by the working musicians and dj's at Namba Gear who are dedicated to creating and delivering exceptional carrying solutions that will stand up to the unique and rigorous workload of professional musicians.
About Artichoke Community Music
Artichoke Music is a 40-year-old nonprofit music community center. We develop and support musicians, attract and educate audiences, and create a connected community of acoustic music lovers of all ages and backgrounds. Artichoke Music is an integral part of the creative community of musicians in Portland, Oregon and in the Pacific Northwest.