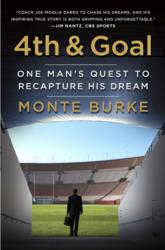 "4TH AND GOAL" is a terrific read and an engaging story."
--Gregg Easterbrook, ESPN Playbook
New York, NY (PRWEB) December 10, 2012
In the summer of 2008, Joe Moglia walked away from the CEO post at TD Ameritrade, leaving at the pinnacle of his career. He had led the company through one of the stormiest periods in the financial world's history, leaving it much stronger and more profitable than it was when he started. "The business world thought he was crazy to leave. But Joe had one more goal in mind, a dream that he had deferred a lifetime ago, one that seemed impossible to achieve: He wanted to be the head coach of a college football team. Now, in the inspiring and uplifting new book,4th AND GOAL: One Man's Quest to Recapture His Dream, (Grand Central Publishing; September 18, 2012; $26.99 hardcover), Forbes writer Monte Burke follows Joe's journey to reach his ultimate dream."
Joe hadn't always been a business man. Back in 1983, Joe was a thirty-three-year-old defensive coordinator of the two-time defending Ivy League champion Dartmouth football team, a position he'd held for three years. But that late fall, facing imminent divorce from the woman he married at age nineteen, Joe realized that he could no longer support his family on the $33,000 annual salary and had to sacrifice his dream to be a college football coach in order to take care of his four children. He decided to head to Wall Street. "He will regret the consequences of this decision for the rest of his life," writes Burke. "But he will always believe he made the right choice."
Now, faced with a second chance to pursue his dreams, Joe set forth with the same fervor that he had when he approached his business career all those years ago, only to find obstacles in his path. Although he made a great case for his management know- how, no athletic director was willing to take the risk to hire him, despite his determination. After two years as an unpaid intern at the University of Nebraska, Joe was named the head coach of the United Football League's Omaha Nighthawks. By the end of his time there, he is left at a crossroads. Is it too late? Did he wait too long to achieve his dream?
The true story of one man's attempt to accomplish his lifelong passion,4th and GOAL is an inspirational story that should remind us all that it is never too late to dream.
ABOUT THE AUTHOR:
Monte Burke is a staff writer at Forbes magazine, and has also written for the New York Times, Outside, Men's Journal, and Town & Country, among others.