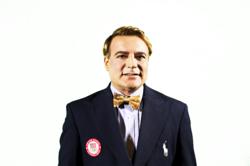 (PRWEB) December 18, 2012
"Ankylosing spondylitis is now being treated with regenerative medicine at The Center for Regenerative Medicine," according to A.J. Farshchian MD an orthopedic regenerative practitioner at The Center for Regenerative Medicine.
Ankylosing spondylitis is an auto-immune entity that can cause inflammation of the entire spine and the sacroiliac joints. The chronic inflammation here can cause pain and stiffness, in the long term the spondylitis (medical lingo: spinal inflammation ) can lead to a complete fusion of spine. Ankylosing spondylitis is much more common in males than in females. (in fact I have not seen it in females as of yet) Most commonly striking patients in their 20s and 30s. It is felt that the problem is genetic, and there is a specific blood test for it known as HLA-B27. The symptoms are typically pain and stiffness in lower back, upper buttock area, neck, and possibly the rest of the spine. X-rays and physical exam may show the appearance of so called bamboo spine . TNF blockers (Enbrel, Humira and Remecade) may play a role.
U.S.A. based physician, Dr. Farshchian, is a medical author, humanitarian, and active republican member. He is best known for coining the term "orthopedic regenerative medicine." Dr. Farshchian is recognized as a leading authority in the new clinical science of regenerative medicine. He is also a Television personality, currently hosting "The Arthritis Show."
The Center for Regenerative Medicine in Miami, Florida concentrates on helping arthritic and injured people to get back to a functional level of life and their activities using non-surgical techniques and Orthopedic medicine. The center's expertise is in treatment of conditions of spine, knees, shoulders and other cartilage damages. They have developed non-surgical and rehabilitation techniques focused on treatment and management of joint pain. Their team includes health professionals organized around a central theme. Their website is http://www.arthritisusa.net