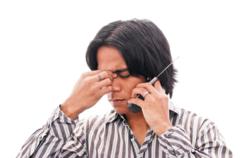 Action speaks louder than words but not nearly as often. Mark Twain
Los Angeles California (PRWEB) December 12, 2012
The stores are decked out with bright lights, decorations and attractive posters encouraging patrons to buy a more powerful Smart Phone, the latest wireless stereo headset or Bluetooth earpiece. There are no warnings on the promotional literature about the radiation risks, maybe a small sentence buried in some instruction manuals about holding the phone 1 inch away from the ear or restricting the use of the earpiece or headset to short times. Consumers rarely read these booklets because they are familiar with the products, truck drivers need both hands, so they blithely place an item against their ear canal for hours and then wonder why they are suffering the Hot Ear Syndrome from the radiated heat generated. In more and more cases the heat becomes a headache or worse still a brain tumor, eye or saliva gland cancer.
As can be seen in the 'A Subtle Addiction' ebook, a number of well-known and highly respected scientists, doctors and neurosurgeons have experiences with cases or patients suffering from these sad degenerative diseases. They present compelling evidence pointing at the microwaves emitted from many increasingly powerful wireless devices as the most likely cause for these illnesses. When a globally respected body like the World Health Organization declares the cell phone a possible carcinogen, there is a need to read this book and see just what else has been revealed.
The authors are encouraging everyone contemplating these exciting but potentially harmful gifts to first consider buying the book to see how that gift should be now considered, and if it can in fact be offered in a form that is safe to the receiver.
The question on many lips - is it worth the risk? What protection is available?
For those interested in the book contents, they have offered a free preview of 8 pages including 2 videos, by going online to http://www.beatemr.com
For more information.
Authors Peter & Lynn McIntosh of Southern Cross Enterprises are marketing the book at an introductory price for only $9.98, plus they offer a special package which includes another eBook called 'The Answer – to overcoming Electro Magnetic Radiation' with a Proton Patch, that assists the body's biofield to resist heat and radiation from phones and game controllers to enable readers to judge for themselves the effectiveness of this unique product. At a total retail value of $92.95, this opportunity at a season special price of $24.95 should appeal to many, and would make the perfect Christmas gift or stocking stuffer. The book can be purchased on-line at Amazon or on the web site