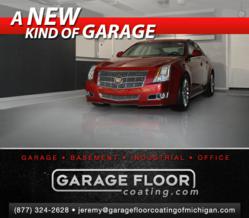 My guarantee to my customers is that I will promise a lot and deliver more.
Midland, MI (PRWEB) December 10, 2012
Unlike most sealers that typically last a year before requiring a re-application, GFC's Eco-CorFlex Hydro-Poly is an affordable and permanent solution to coating and sealing a myriad of surfaces including; exposed aggregate, concrete, flagstone, pavers (or paver stones), wood (all types), decorative or stamped concrete, painted surfaces, asphalt and even previously coated surfaces.
Eco-CorFlex Hydro-Poly is a 2 component industrial coating product that acts like a sealer. It is a one-time application that adds strength and density to concrete. Hydro-Poly is resistant to chemicals including salt, chlorine, calcium chloride, petroleum products and acids. It is UV stable and because of its non-porous properties, it stops moisture vapor transmission, stabilizes spalling in concrete, and virtually eliminates efflorescence. Eco-CorFlex Hydro-Poly is an eco-friendly product that can be used in basements and enclosed areas. It is essentially odorless, prevents mold and mildew, and reduces radon gas emissions in basement slabs, creating a healthier environment.
Additionally, Garage Floor Coating of Michigan announces a new and exclusive coating system called Earth Effects Flooring. Earth Effects is a unique system containing natural minerals providing a smooth, seamless, high gloss finish that has a unique and reflective brilliance. No two floors will ever look the same. They offer multiple color combinations that can be used to create a style that homeowners can call their own.
Garage Floor Coating of Michigan has been serving the Midland community for over 2 years. Owner, Jeremy Breault grew up in the Midland area and said, "I have enjoyed growing my business and giving back to the community where I have spent my entire life." In addition to growing his business, he supports Meridian High School shop class, Meridian girls' basketball, The Robert Charles Cole Foundation, Midland 4H, Boy Scouts of America and St. Jude's Children's Hospital.
Jeremy Breault chose the Garage Floor Coating Franchise System because of the positive nationwide feedback. Breault said, "After speaking with the CEO, I knew there was no other company I wanted to be part of. GFC provided me the opportunity to start a business that gave me personal gratification of seeing how thrilled my customers are once a job is completed. Every customer and job is extremely important to me and my customers continually provide the greatest compliment of all when referring me to others. My guarantee to my customers is that I will promise a lot and deliver more."
For a free estimate and more information, please visit http://www.garagefloorcoatingofmichigan.com or call 989-698-6566.
About Garage Floor Coating Franchise Systems Inc.
Garage Floor Coating of Michigan is an authorized dealer and installer of products developed by Garage Floor Coating (GFC) headquartered in Phoenix, AZ. Founded in 1996, Garage Floor Coating has over 30 Dealers throughout the United States and in Canada, GFC is the leading innovator in concrete coating techniques. The floor's coating process, developed and perfected by Robert Hanson, remains the benchmark for the industry and raised the bar to a new level by which all other concrete coatings are measured. They specialize in residential, commercial, and industrial concrete staining and floor coatings including, but not limited to garage floors, basements, warehouses, airplane hangars, showrooms, retail facilities, walkways, patios, and food preparation areas. They also specialize in concrete repair, concrete sealing and staining and sealing brick pavers and flagstone, and wood decks. For over a decade, their innovative process has been refined to ensure that your floor will have a style and sophistication that lasts for years.
About NALA™
The NALA (National Association of Local Advertisers), a small business association, is for local business owners offering new online advertising & marketing tools, great business benefits, education and money-saving programs, as well as a charity program.
Contact: Jeremy Breault
2900 Rodd St. #1193
Midland, MI 48641
989-698-6566
jeremy(at)garagefloorcoatingofMichigan(dot)com
###