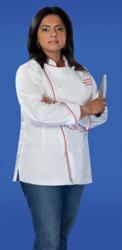 There's no better meal than that which a professional chef would prepare for their loved ones.
Huron, OH (PRWEB) December 07, 2012
Celebrity Chef Maneet Chauhan, of Food Network's "Next Iron Chef" and "Chopped," is bringing her talent to Ohio for an Earth to Table® dinner at The Culinary Vegetable Institute on Saturday, December 15. While she's in town, Chef Maneet will visit The Chef's Garden family farm to learn where and how the vegetables she'll be incorporating into each course of the meal are grown.
Even for an experienced professional, a tour of the greenhouses and fields at The Chef's Garden reveals new and unfamiliar greens, herbs and vegetables. Chef Maneet's comprehensive knowledge of traditional Indian flavors and techniques, honed in India's finest hotels and kitchens, may also offer insight into new varieties that the farm may want to explore growing. It's this type of collaboration between chef and farmer that embodies The Chef and Farmer Concept®, which helps guide innovation in vegetable production at the farm.
Another facet of the Earth to Table dinner is a book signing with "Come In, We're Closed" co-author, Jody Eddy, who has compiled a cookbook of staff meals at some of the world's finest restaurants. For those who aren't familiar with "staff meal," it's the communal meal prepared for a restaurant's staff before or after a long and hectic service. Since the staff spends more time at the restaurant than at home, many consider their team members to be like family, and there's no better meal than that which a professional chef would prepare for their loved ones.
That's the kind of familial atmosphere that Chef Maneet will convey at the dinner through dishes like "Grandma's Black Lentil - Slow cooked black lentils and kidney beans with butter - just the way grandma would make it." It's the same sense that The Chef's Garden team members and farm owner, Farmer Lee Jones want chefs to take away from a visit to the farm.
View the entire Earth to Table Dinner menu here.
###
About The Chef's Garden
The Chef's Garden is a family farm that grows, packages, and ships the highest quality, safest and most flavorful specialty vegetables, herbs and greens directly to the best chefs in the world. The farm recently introduced the Farmer Jones Farm Home Delivery Program for the public. In order to grow foods with optimum quality, flavor and nutrition, The Chef's Garden is committed to sustainable agricultural practices that naturally replenish nutrients depleted from the soil, rather than synthetically. Read more about The Chef's Garden and owner Farmer Lee Jones at http://www.chefs-garden.com.
About The Culinary Vegetable Institute
Tucked far back off State Rt 13 in charming Milan, Ohio sits The Culinary Vegetable Institute, a culinary retreat and learning center for the best chefs in the world. It was developed in association with The Chef's Garden to foster creativity between chef and farmer. The space is rustic yet luxurious, featuring specialty and experimental kitchen gardens in a wooded setting along the Huron River. The institute hosts high-end dining experiences and cooking classes that are open to the public as well as private events, culinary research teams and corporate team-building experiences. http://www.culinaryvegetableinstitute.com