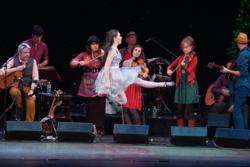 For this 10th anniversary celebration, O'Donovan has assembled some of the best performers imaginable from around the Celtic world!
Worcester, MA (PRWEB) December 10, 2012
Celebrating its 10th Anniversary, A Christmas Celtic Sojourn with Brian O'Donovan, generously sponsored by Fallon Community Health Plan, returns to The Hanover Theatre for the Performing Arts in Worcester on Tuesday, December 18 at 7:30pm. Celebrate Brian O'Donovan's wildly popular seasonal gathering of singers, musicians and dancers steeped in Celtic tradition as they perform holiday favorites on the set of "A Christmas Carol."
For this 10th anniversary celebration, O'Donovan has assembled some of the best performers imaginable from around the Celtic world, including Seamus Egan and his ground-breaking group Solas, who lay at the contemporary edge of traditional music. Harpist Catriona McKay and fiddler Chris Stout, who stole the show in 2010, will be back for a repeat performance. With Winifred Horan on fiddle, Natalie Haas on cello, Chico Huff on bass and Ben Wittman on percussion, spectacular instrumentals and song arrangements are expected.
O'Donovan is the host of the weekly radio show "A Celtic Sojourn" airing Saturday afternoons from 3 pm – 6pm on 89.7 WGBH in Boston. The show regularly explores music from the Celtic countries and England. Since Celtic Pagan and Christian traditions have a very strong link to the music of this season, national broadcasts of the Christmas edition of "A Christmas Celtic Sojourn" over the past 28 years have proven extraordinarily popular.
Tickets to A Christmas Celtic Sojourn with Brian O'Donovan are $46, $52 and $58, with a 10% discount available for members of The Hanover Theatre, groups of 10 or more, kids, students and WOO Card holders. Tickets are available online at TheHanoverTheatre.org, by phone at 877.571.SHOW (7469) and at The Hanover Theatre box office located at 2 Southbridge Street in downtown Worcester. Additional information is available online at WGBH.org/Celtic.
About WGBH
WGBH Boston is America's preeminent public broadcaster and the largest producer of PBS content for TV and the Web, including "Masterpiece," "Antiques Roadshow," "Frontline," "Nova," "American Experience," "Arthur," "Curious George," and more than a dozen other prime-time, lifestyle, and children's series. WGBH's television channels include WGBH 2, WGBH 44, and the digital channels World and Create. WGBH TV productions focusing on the region's diverse community include "Greater Boston," "Basic Black," "High School Quiz Show," and "Neighborhood Kitchens." WGBH Radio serves listeners across New England with 89.7 WGBH, Boston Public Radio; Classical New England; andWCAI, the Cape and Islands NPR® Station. WGBH also is a major source of programs for public radio (including The World), a leader in educational multimedia (including PBS LearningMedia, a free online service providing the nation's educators with curriculum-based digital content to meet 21st-century learners' needs), and a pioneer in technologies and services that make media accessible to the 36 million Americans who are deaf, hard of hearing, blind, or visually impaired. WGBH has been recognized with hundreds of honors: Emmys,Peabodys, duPont-Columbia Awards…even two Oscars. Find more information at wgbh.org.
About The Hanover Theatre
The Hanover Theatre for the Performing Arts, located in downtown Worcester, New England's second largest city, is recognized by Pollstar as one of the top 50 theatres in the world. After undergoing many name changes and renovations over the decades since its 1926 birth, The Hanover Theatre reopened in March 2008 following a $32 million historic restoration. Since then, the theatre has established its place as a rich entertainment and cultural venue, winning numerous awards, including The National Trust for Historic Preservation Award in 2010. Now in its fifth season, The Hanover Theatre continues to expose over 170,000 annual patrons to world-class entertainment in the form of Broadway, concerts, comedians and much more. For more information, visit TheHanoverTheatre.org. Worcester Center for the Performing Arts, a registered not-for-profit 501(c)(3) organization, owns and operates The Hanover Theatre for the Performing Arts. All donations are tax deductible to the fullest extent allowed by law.