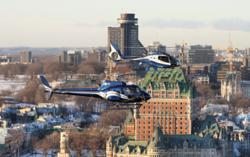 Québec's charms and majestic landscapes take on an entirely different proportion when seen from above in a helicopter. We are sure that the scenery, which would make amazing postcards, will enthrall the Europeans, announced GoHelico President Stéphan Huot
Quebec City, Quebec, Canada (PRWEB) December 11, 2012
An all-star lineup of Québec and French celebrities will be staying at the Sacacomie hotel until December 13 to record "Soir de fête au Québec", a lavish comedy and variety show that will be aired on French and Québec TV when the 2012 holiday season is in full swing.
The official helicopter transportation service for this show, GoHelico is now going after the European market. After contacting numerous wholesalers to present its new guided helicopter tour service in Québec City, the filming of "Soir de fête au Québec" and its December 24 broadcast on France 2 are a tremendous springboard for the young Québec company's visibility, adding to its string of successes.
Throughout their stay, Québec's headliners will have the pleasure of introducing their guests to typically Québec activities that highlight our history and winter traditions: ice fishing, maple syrup on snow, dog sledding and snowmobiling. GoHelico is part of these memorable excursions, which will be immortalized and broadcast as part of the show.
"Québec's charms and majestic landscapes take on an entirely different proportion when seen from above in a helicopter. We are sure that the scenery, which would make amazing postcards, will enthrall the Europeans," announced GoHelico President Stéphan Huot. "Our partnership with Jean Langevin and Gérard Pullicino, co-producers of the show, fits in exactly with our positioning efforts," he concluded.
Following numerous meetings in Europe, GoHelico's Sales & Marketing Director Isabelle Longpré enthusiastically anticipates a breakthrough in that market. "The interest in this new product is outstanding. Helicopter tours add a touch of exoticism and escape to a choice destination for Europeans," declared Longpré, a knowledgeable tourist marketing professional.
About Soir de fête au Québec
Soir de fête au Québec will bring together many artists, including Patrick Bruel, Gérard Lenorman, Louisy Joseph, Jenifer, Chimène Badi, Baptiste Giabiconi and Les Frères Taloche. The following Quebecers will also be presented: Véronic Dicaire, Isabelle Boulay, Robert Charlebois, Lynda Lemay, Mes Aïeux, Marie-Mai, Anthony Kavanagh, Messmer, Stéphane Rousseau and Rachid Badouri. The show will be broadcast on France 2 on December 24, 2012, and on Radio-Canada in two segments on December 27 and 28, 2012.
About GoHelico
With its exclusive offer of helicopter tours and excursions, GoHelico carries visitors to the heart of the Capitale Nationale region's exceptional landscapes. Founded in 2012 by Stéphan Huot, this Québec company forms, with Capitale Hélicoptère and AIRMEDIC, Québec's first group of helicopter transport companies. Stay connected with GoHelico at http://www.gohelico.com and on facebook http://www.facebook.com/gohelico