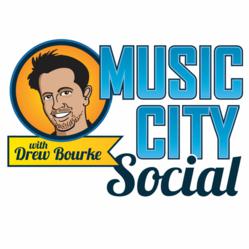 I almost cried listening to his story
Nashville, Tennessee (PRWEB) December 08, 2012
Nashville's music business insider show, Music City Social, will be interviewing some of Nashville's homeless people on Monday., December 10. The now popular audio program plans to raise awareness regarding Nashville's homeless by creating a special weekly segment that includes interviews with and stories told by the homeless. The goal is to provide a side of the music business rarely told in the Music City.
"The music business has many sides. Already, our gusts have told stories about getting and loosing record deals, bands falling apart, and a few success stories as well. But, we know for a fact many of Nashville's homeless are here because they chose a career in music, and things just didn't work out", according Music City Social host, Drew Bourke.
Mr. Bourke had the idea to interview the homeless while stopped at a red light in downtown Nashville. He was approached by a homeless person selling the Contributor newspaper, and ended up having an in-depth discussion with the man about his move to Nashville, and previous involvement in the music industry.
Mr. Bourke described his instantaneous inspiration, "It was very spur of the moment. After buying the Contributor newspaper from him, I asked him if his living in Nashville had anything to do with music. I was shocked to find out his answer was in fact, yes. I pulled my car over and we ended up having a fifteen-minute conversation about his moving to Nashville twenty years ago, being in a band, his wife and child leaving him, and having to sell his home to pay her credit card and medical bills. His story could easily write ten hit songs. I almost cried listening to his story. When I got home, I called the Contributor newspaper and shared with them my idea. They loved it, and quickly scheduled interviews on December 10, 2012 with four Contributor workers who are homeless. All of which, have an interesting story to share."
The Music City Social audio program launched in November 2012, and has since received over 36,000 views on YouTube alone. The success of the show is due in part to Mr. Bourke owning and managing his new publicity firm, Starmaker PR Group. The firm is scheduled to launch in January 2013, and specializes in publicity services for small businesses and also the entertainment community. Mr. Bourke plans to employs his most recent company launch, TinyPRCampaign.com, for promoting the show and the homeless issues in Nashville. "I come from a charitable family, who all do things in their community to help the less-fortunate. I'm very blessed to have all of these publicity tools at my fingertips. I can think of no better use for a publicity firm than to help Nashville's homeless. We're planning weekly press releases, email blasts and lots of social media to bring attention to both the homeless, and to the efforts of the Contributor newspaper. The Contributor gives these people jobs, and in doing so, hope. We're hoping Nashville's press picks these press releases up, and helps us in our mission to better educate Nashville on the issues of the homeless", said Mr. Bourke.
Listen for featured segments and interviews with some of Nashville's homeless on future episodes of Music City Social. To download or listen to the show online, visit http://MusicCitySocial.net/.