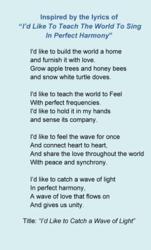 "By sharing simple messages of love, light and unity with each other and within all of our social networks, we spark a true season of light and caring in our friendships, our families and in all of our communities around the world," Doug De Vito.
Los Angeles, CA (PRWEB) December 11, 2012
Now is the time to step forward and join an unprecedented alliance of Transformational Leaders, Organizations, Celebrities and World Leaders around the globe to catch and share a wave of love and light during December's 21 Days of Light—December 1-21-- corresponding to the closing days of the current 26,000-year Mayan Calendar cycle and the time of the year often called "The Season of Light."
In this globally sweeping campaign called CATCH THE WAVE 2012, one-minute audio and video messages of love are being shared by teachers, celebrities and luminaries such as don Miguel Ruiz, the Ruiz Family, Dr. Joe Dispenza, David Hamilton, Greg Louganis, and many others from the Hampton Roads and Hay House Publishing family of authors at http://www.CatchTheWave2012.com. These inspiring messages are being spread virally around the world to help uplift the planet and bring new waves of light and joy to all.
SPREAD THE LOVE
Inspired by the lyrics of the song "I'd Like to Teach the World to Sing in Perfect Harmony" --and the iconic movie and commercial images of people sharing songs of harmony and hope during this time of year--CATCH THE WAVE 2012 uses advanced video sharing and digital technologies from Good Life Networks and Bo Rinaldi to create an update on that universal theme of world unity.
It does so by inviting teachers, celebrities, world leaders and people like you to "catch the wave" themselves and then create their special one-minute messages of love, light and unity for sharing in their own communities. And as they join the wave of people sharing messages, each person will receive 21 Messages of Light from an extraordinary array of bestselling authors, Olympians, business leaders and others.
"By sharing simple messages of love, light and unity with each other and within all of our social networks, we spark a true season of light and caring in our friendships, our families and in all of our communities around the world. All during this very traditional holiday season of light," says Doug De Vito, the transformational leader who conceived CATCH THE WAVE 2012 along with movement leaders Sabrina Fritts, Kathryn Brinkley, Kelly Woodruff, Christine Upchurch, Elizabeth Polito, Paul Marwood, Holly Hawkins, Bo Rinaldi and Jonni Pollard. Together they mounted the campaign that has united a global gathering of individuals, organizations, consciousness seekers and teachers.
CATCH THE WAVE 2012 is further designed to creatively engage people in a new way to share messages of love and caring for others, over and above the time-honored practice of sending holiday cards as year-end-inspired tidings of joy.
WHY NOW?
There has been no time like this in human history…when cultures and individuals around the world are gathering to usher in a new era with a unified intention to shift the planet's consciousness. This massive effort is not solely linked to the Dec. 21, 2012 close of the 26,000-year cycle of the Mayan calendar, but is also as a result of a perceived quickening or shift in the Earth's energy felt by many who are sensitive to it.
And using the powerful social networking technologies available today, the message to "amp up" the love quotient is already reaching around the globe, spurred by the efforts of visionary movements such as the Shift Network, World Unity 2012, Unify.org and many others. These organizations are gathering, inspiring and organizing more than 333 events in 30+ countries as part of their preparations and programming related to the closing of the Mayan Calendar. Their aligned total efforts have already touched millions and will culminate during the capstone weekend of Dec. 21-22, 2012, a time that interpretations of the Mayan Calendar appear to indicate that the world will enter into a period of massive shift.
Among the organizations and movements aligned with CATCH THE WAVE 2012 -- which are either staging or linking events -- are The Shift Network, which is hosting, linking and webcasting events internationally under the Birth 2012 banner, culminating in Los Angeles on Dec. 22; Don Miguel Ruiz' "Awakening the Giant" in Teotihuacan, Mexico on Dec. 21 and culminating at Synthesis 2012 in Chichen Itza where don Miguel Ruiz is the Master of Ceremonies on their Dec. 22 celebration event, 1 Giant Mind, World Unity 2012, Good Life Networks, Get Your Shift Together TV, and Upgrade TV which will be broadcasting video online from all of the events.
Many of these events and celebrations slated for that weekend are being spearheaded by or with such luminaries as don Miguel Ruiz, Barbara Marx Hubbard, Gregg Braden, Dr. Bruce Lipton, Dr. Joe Dispenza, Drs. J.J. and Desiree Hurtak, Michael Beckwith, Dr. Masaru Emoto and the entire Ruiz Family tree of teachers.
All of these activities undertaken globally will be augmented by the conscious actions of individuals around the world who believe in the power of their intention for love, and their energy to create change.
TO CATCH A WAVE
People CATCH THE WAVE by creating their own one-minute, positive, loving and inspiring videos and then posting it on their own Facebook, Twitter, YouTube and other social network sites, as well as CatchtheWave2012.com When they join the "Wave" at CatchTheWave2012.com, they will receive 21 inspiring messages from some of the leading teachers and luminaries in the world. And once they begin sharing the wave with others, they will also be able to participate in a series of free teachings, classes, activations, and community offerings from the world's leading teachers and thought leaders throughout the entire month of December.
For CATCH THE WAVE 2012 information, daily updates and messages, go to: http://www.CatchtheWave2012.com.
MEDIA CONTACT:
Jackie Lapin
(818) 707-1473
Jackie(at)consciousmediarelations(dot)com
OR
Sabrina Fritts
CATCH THE WAVE 2012
(720) 935-6316
sabrinafritts(at)yahoo(dot)com
###