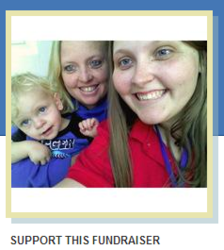 Cindy's life was pretty ordinary until she turned 31.
Miami, FL (PRWEB) December 17, 2012
A few days ago, SEOMiracle.com stepped forward with their decision to help out Cindy Suzanne Hood, a single mother who needs $25,000 for a kidney surgery. It was right after SEOMiracle.com published a heart-breaking story told by her closest friend and sister.
Cindy's sister Nicole said:
"It is true that since the story came out, we have been getting a lot of help. However, I feel a strong need to tell people a few more things about the life of Cindy, hoping to inspire even more people to donate their money for this cause. Cindy Suzanne Hood has never had an easy life. Before I was born, my mother, who was just 20 years old, adopted Cindy when she was 1 year old. We later found out that she was living in an abusive home and was maltreated. When my mother brought her home she immediately took her to the hospital due to a terrible wet cough that lingered in her lungs. She had pneumonia. Cindy's life was pretty ordinary until she turned 31."
SEOMiracle.com believes that Cindy does not need a lot, and that these funds can be found very quickly. Cindy's family is also looking to organize a charity event where people could talk to Cindy and give their donations for this cause. The representatives of SEOMiracle.com will be at the spot, once again, supporting this event. At this moment, the company is doing one of their most important online campaigns, which is helping Cindy collect the money needed for a new kidney. There are number of links and articles online, written by this prestige SEO and marketing company, that point to the page where anyone can simply type in the amount of money they want to give away and enter their credit card information.
Joshua Hood, CEO and a co-founder of SEOMiralce.com said, "As one of the best marketing and SEO companies in the United States we have the power to get to people and deliver a message. We insisted on helping out Cindy to overcome her life obstacle and continue living her life just like all of us. Cindy needs us, so I invite everyone with a good heart to help Cindy and her family with her life battle."
If you would like to donate money, send a hug to Cindy and her family or read her full story, please go to http://www.giveforward.com/cynthiasuzannekidneytransplant?utm_source=facebook&utm_medium=fb_wall&utm_campaign=vanity_page&og_action=hug&fb_ref=520585.