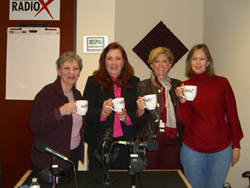 The energy and camaraderie in an all-women organization is incredible.
Atlanta, GA (PRWEB) December 08, 2012
On December 6, 2012, Lee Kantor, host of BusinessRadioX®'s Atlanta Business Radio, hosted a roundtable discussion with select members of ProWIN - Professional Women's Information Network.
Leading off the discussion was Linda Zuk, founder of FocusFive Consulting. Zuk's company centers on building strong relationships, communicating effectively and growing successful businesses for executives, teams and individuals.
Also joining the group was Karen C. Hughes, President of Image Assets, and creator of StyleYOUniversity.com, an online learning community that focuses on education, training and support for women and emerging stylists.
Next at the table was Ronna Woodruff with Woodruff Law, an experienced bankruptcy attorney in Marietta, Georgia. Woodruff Law always offers free consultations where the client's questions never go unanswered or ignored.
Rounding out the discussion was Elisha Fields, an artist affiliated with Free Range Art, LLC. Free Range Art deals in Fine Art. They sell original paintings and some prints, and are marketing a new drawing tool.
Kantor spoke with these guests about ProWIN, a nationally recognized membership organization that provides resources for professional women and is valued above all for its commitment to their professional, personal, and economic empowerment. These featured guests have held membership in ProWIN from just 2 months to over nine years.
According to Hughes, "Networking with ProWIN turns the focus off yourself and helps you reach out to others." Zuk agreed. She said that the two biggest tips she gives women are to get active in some way - join a committee or do something other than just come to the luncheons, and to also "stay connected with the people you meet and like, stay connected and build relationships."
Woodruff, a member for just two months, said, "The energy and camaraderie in an all-women organization is incredible."
To learn more about ProWIN and these featured guests, tune in to this episode at Atlanta Business Radio.
About Stone Payton:
For over 24 years, Stone Payton has been helping organizations and the people who lead them drive their business strategies more effectively. He is a Managing Partner at BusinessRadioX® and the author of SPEED®: Never Fry Bacon In The Nude: And Other Lessons From The Quick & The Dead, and has dedicated his entire career to helping others produce better results in less time.
About Lee Kantor:
Lee Kantor has been involved in Internet radio, podcasting and blogging since he started the Dr. Fitness and the Fat Guy show in 2005. Since then, Lee has interviewed well over 1000 entrepreneurs, business owners, authors and celebrities on a variety of shows and at live events. In addition to his hosting duties, Lee is a Managing Partner at Business RadioX™ and is committed to helping entrepreneurs and business owners in Atlanta learn how to use radio to dramatically grow their businesses.
About Atlanta Business Radio:
http://www.atlantabusinessradio.businessradiox.com
Each week, from the BusinessRadioX® studio in Sandy Springs, Lee Kantor and Stone Payton interview Atlanta, Georgia's top businessmen and businesswomen to learn what makes them the best at what they do.
About BusinessRadioX®:
BusinessRadioX® provides a turnkey solution for business owners who want to leverage the power of internet radio to meet their best prospects, establish credibility for their organization and heighten the placement of their brand in search engines rankings. With a professional venue and a proven formula, BusinessRadioX® helps hosts podcast their shows and create a regular stream of dynamic content to share with their prospects and feed the search engines every week. Programs are recorded and streamed live to the internet from our studios in the greater Atlanta area. For more information or to hear a live show, visit: http://www.businessradiox.com.